Anise Magazine — Ongoing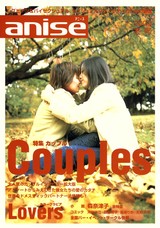 Anise was a lesbian magazine that ran from 1996-2003 (with a break between 1997 and 2001); as far as we know, there were 9 issues total. Like Phryne, it contained articles, short stories, manga, essays, and so on. Rica 'tte Kanji! (available for purchase in English from ALC Publishing) and Plica both ran in this magazine.
"When She Touches Me," by Amaguri Tarou, is a teacher-student story.
"Song in Blue," by Amano Tenshi, is a slightly more upbeat look at the "my ex is getting married" story.
In Nohara Mini's "Chocolate-Covered Almonds," a woman thinks about someone from her past.
In "Baby Lips," by Obara Ayako, Noriko reacts badly to Chiharu's new makeup.
In "The Power of Love: I Miss You," by Obara Ayako, a couple has trouble finding time to spend together because one of them is working overtime.
Morishima Akiko's "Off Time" is about growing old with the one you love.
Morishima Akiko's Happy Picture Diary is a short 4-panel comic series about a couple in their twenties.