Maria-sama ga Miteru by Nagasawa Satoru — Dropped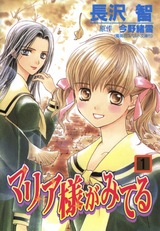 Based on the novel series by Konno Oyuki. The setting is Lillian Academy, a private Catholic all-girls school where the student council is known as the Yamayurikai (Mountain Lily Council) and younger students are taken under the wing of older students through a system known as the "soeur system" ("soeur" (or "sœur," when spelled with the ligature) is French for "sister"). The main character, Yumi, who is basically a nobody, suddenly finds herself interacting with the members of the Yamayurikai and their soeurs, most notably her crush, the talented, beautiful, and withdrawn Sachiko...
The character designs of the manga are a bit different from those of the novel and the anime, and the story is drawn out more than in the anime, following more closely to that of the novels.
Volume 1

Volume 2

Volume 3

Volume 4

Volume 5