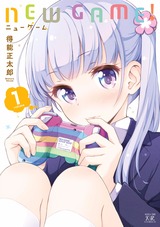 This manga has been licensed
Content licensed for English release has been removed from the reader. You can support the author by purchasing the title when it becomes available.

Follow Aoba Suzukaze, a fresh highschool graduate that is easily mistaken as a middle school student, as she joins the game company that produced her favorite game as a 3D artist, and her cute antics in this story told through 4koma.
Volume 1

Volume 2

Volume 3

Volume 4

Volume 5

Volume 6

Volume 7

Volume 8