Pure Water Adolescence by Kazuma Kowo — Completed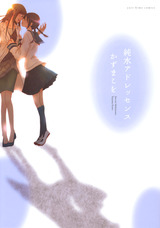 A student-teacher romance.
"Prologue: Hidden Name" is about Nanao and Matsumoto's first meeting.
In "Summer Window Syndrome," we get a dose of Matsumoto's perspective. Why doesn't Nanao want Matsumoto to call her by her first name?
In "Summer Window Chatting at Night," Nanao finds something of Matsumoto's.
In "Chatting in our Pajamas," Kiyo is in love with her friend Nanao, but knows that Nanao is already with someone else.
"Cute," an extra from the new edition, takes place shortly after "Chatting in Our Pajamas," on the school field trip.
In "On My Tiptoes in October," Nanao sees a different side of Matsumoto.
"Mental Age Limits" is a one-page short about Nanao and Matsumoto.
"Lovesick Over My Best Friend" focuses on two side characters.
In "Hatsumoude Syndrome," Nanao and Matsumoto celebrate the New Year.
In "First Love Canon," another teacher gives Matsumoto and Nanao some advice. (Note: In this case, "canon" is a musical term; perhaps the simplest kind is a round, like "Row, Row, Row Your Boat.")
In "Summer Nude," Abi wants to go to the pool but Kiiko is reluctant. (This story goes with "Lovesick Over My Best Friend.").
In the first half of "Liars' Engagement," Nanao and Matsumoto disagree over Nanao's plans for her future. In the second half, Nanao confronts Matsumoto.
"Bursting With Impatience" focuses on Matsumoto's feelings. Note: There's a parody in the afterword that you won't get unless you watch this video.
In "First Time," Nanao and Matsumoto take a trip together.
Rakuen Edition
This series was reissued by Hakusensha's Rakuen line of comics in 2015 as a "Complete Edition." This new edition includes the contents of the original collected volume, all of the extras and a new chapter drawn specifically for the reissue, "Married Life."
Other Chapters
A short called "After Start" was released on Rakuen's Web Edition