Hana and Hina After School by Morinaga Milk — Licensed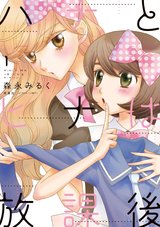 This manga has been licensed
Content licensed for English release has been removed from the reader. You can support the author by purchasing the title when it becomes available.

THIS HAS BEEN LICENSED BY SEVEN SEAS. As such, I am discontinuing scanlation of it. To see what happens after vol 1, please obtain the volumes as they are released.

High schooler Hana is a small, quiet, ordinary girl. Because there is something she wants to buy, she is working part time at a fancy shop.
Then Hina, a girl with the appearance of a trendy gyaru, is hired as a new employee.
As Hina comes from a completely different world, Hana is a little reluctant. However, it seems that somehow, Hana is always on Hina's mind...?

From the back cover.
Volume 1

Volume 2

Volume 3