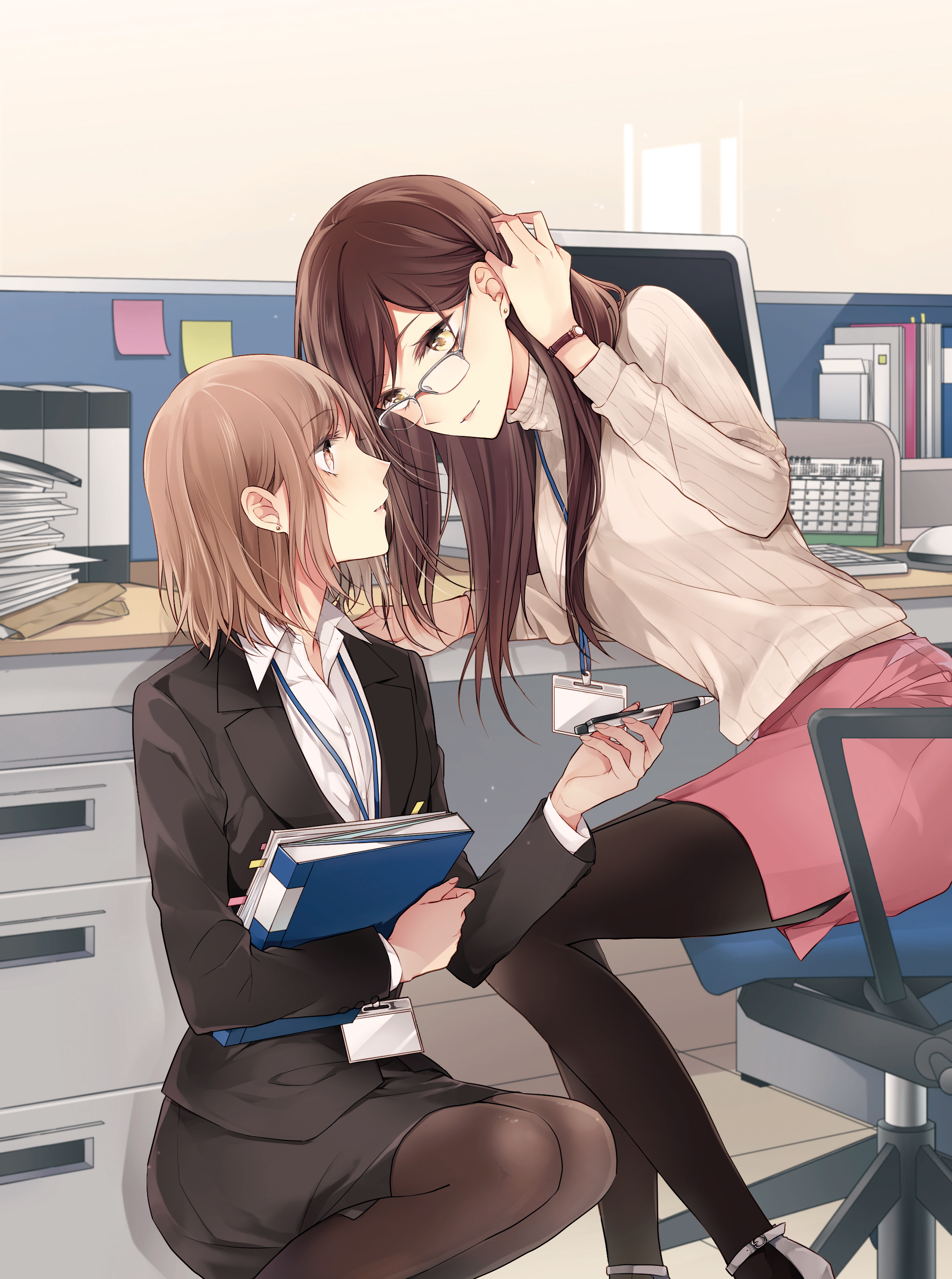 Vankomycin Apr 15, 2018 9:41PM
Ah, the classic "Dropped my pen" gambit. Famed in song and story.
Senpai wearing the "fuck me" pumps, too. She's been planning this for at least a week.

Lyca Apr 15, 2018 10:09PM
mmmm SIGN ME THE FRICK UP

mint-leaf Apr 15, 2018 11:00PM
I'm just reveling in all of the really good original content that's been put out today. Great stuff.

RoyceAxle Apr 15, 2018 11:31PM
Everything about this gets a "FUCK YES" from me.
The senpai is pulling out all the stops, and I'm reminded of how gay I am.

Homura E.N.D Apr 15, 2018 11:57PM
Le see:
Hot office lady
Office
Fuck me pumps
Maybe a little bit shy kouhai
Maybe some BDSM the lady is into
She will maybe bring the other gurl into the BDSM world
Yeah, where can I sign?
Meito-chan Apr 16, 2018 12:30AM
This author is so great.

blargh201 Apr 16, 2018 2:40AM
Today I learned: "fuck me pumps" are a thing.
Love the image, too.
Takkyomi Apr 16, 2018 8:47AM
How can this classic ruse be so great?

spiels Apr 16, 2018 9:45AM
Today I learned: "fuck me pumps" are a thing.

almighty Apr 16, 2018 3:19PM
Would be even hotter if the lady with the long hair is the other girl's manager.
Aaaa classic office-manager romance /w/ aha

YurixLily Apr 16, 2018 5:06PM
I gotta say, this image is very high-quality compare to the other works I seen from this author. Thumbs up
Queen Lily Apr 16, 2018 6:06PM
That's me on my job with my boss :3

Ushio Apr 17, 2018 8:10PM
oooh yass

redpanther Apr 18, 2018 1:04AM
When overtime is totally worth it.

Bugpope Apr 18, 2018 4:16PM
Office lady yuri is best yuri. We all know this to be true.
You all forget the glasses, though. The glasses is what makes OL really good.
last edited at Apr 18, 2018 4:17PM

souleater Apr 19, 2018 11:22PM
damn damn damn <3

Orochi5 Apr 20, 2018 1:58PM
clap*clap**clap**nosebleed*(ノ´з`)ノ
YayaSamuko Feb 27, 2019 3:13PM
This is at times like these I am really glad I'm alive

BlueFlareTOG Jan 28, 2020 5:53PM
Adult yuri is what this world needs more of.

TheAlmightyUltimus Jan 31, 2021 10:05PM
This is the cover art for a yuri anthology, isn't it?