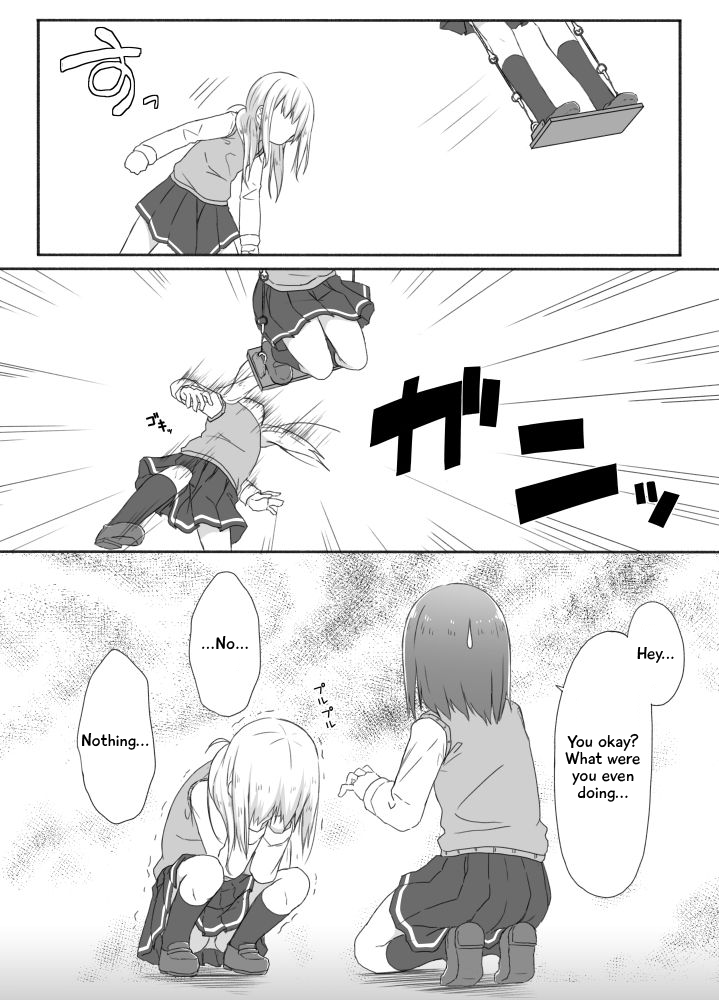 drpepperfan Jan 31, 2018 11:14PM
Translated by Arckuno.

RoyceAxle Jan 31, 2018 11:44PM
In the last panel, the pervert girl was the one who's panties got shown. I feel like there's some ironic humour in that somehow.
UnnieCrush Feb 1, 2018 2:14AM
When I was a kid I got legit knocked out and lost a few teeth that way,only rather than being a pervert I was just not careful enough around swings. But still...I feel your pain girl.

sheska Feb 1, 2018 2:33AM
perverts got wut they deserve lol

benja Feb 1, 2018 2:46AM
as we said in melee worth it

kharen Feb 1, 2018 11:07AM
Woah I don't know why but I think I can feel the pain ((。・ωฅ)ฅ(・д・`๑)don't mind‧º·˚

Canaan Feb 1, 2018 11:08AM
Karma
lord-of-roses Feb 1, 2018 2:42PM
Karma hits like a boomerang. Or a swing, in this case.
Aki_Chan Feb 2, 2018 6:08AM
Perv girl: Thinking totally worth it *smiling and nose bleeding
Other girl: Thinking poor girl I'll help her... Oooh her panties are showing, sweet!! <3
xD

Pyoro Feb 2, 2018 6:26AM
When did I get too old to enjoy swings? :(
Nekofanatic Feb 3, 2018 11:23AM
Panty hunting is a dangerous sport.

souleater Feb 8, 2018 11:26PM
chance taken away <3 ahhah