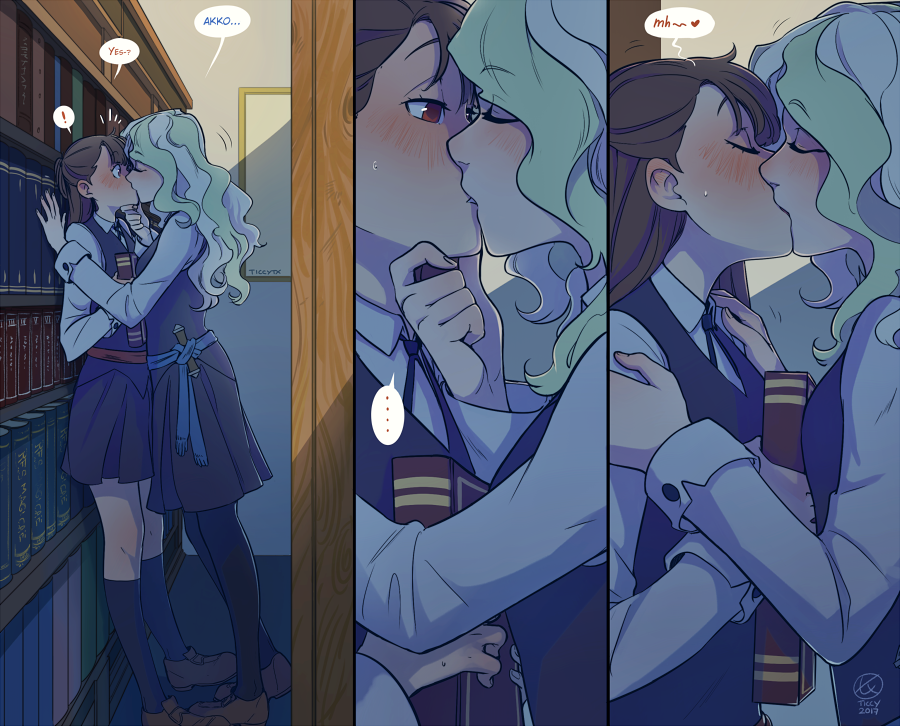 mint-leaf Sep 11, 2017 11:23PM
Hell yea!

Mimiyaah Sep 11, 2017 11:30PM
Sweet Yuri~

KYOUSAYA4LIFE Sep 12, 2017 12:22AM
Secret love in the library!~

KitchenReno Sep 12, 2017 12:37AM
Can't get enough of this pairing. And I suspect there is a follow-up comic coming, as this artist tends to work that way.

sventare Sep 12, 2017 12:48AM
paraiso

2Legit4U Sep 12, 2017 1:52AM
Gimme dat DiaAkko
Aki_Chan Sep 12, 2017 5:52AM
Oh what one must secretly do in the library <3 / Aww love how Akko isn't fighting her back and started to get used to kissing her (that's a good Akko) :B

SphinxLord Sep 12, 2017 11:59AM
Akko: (In her head) 'I could totally touch her boob'

RoyceAxle Sep 12, 2017 3:33PM
Niceee

BakaChiki Sep 12, 2017 4:18PM
PLEEAASEE I HAVE TO SEE THIS IN THE ANIMEEE!!

mikuemi Sep 12, 2017 10:26PM
Make it Canon please.

IzzyLebasi Sep 12, 2017 11:49PM
:D That second panel is my favorite. Also just like this ship a lot ~~
AsukaEnergetic Sep 13, 2017 6:44AM
Hmmm LOVELY SIGHT! >~<

Lalala Ñañaña Sep 13, 2017 11:27AM
SASUGA DIANA

Komohiro Sep 13, 2017 2:09PM
Hell yeah I love this artist. The way it draws the expressions is gold

matthew Sep 13, 2017 2:38PM
i love the second slide and the look on her face as it says i've lost control to this kiss

souleater Sep 14, 2017 8:36PM
nd that's how it goes
StarDress Sep 25, 2017 3:24PM
s2
GrimEater Oct 3, 2017 4:04AM
That book Akko has is lucky