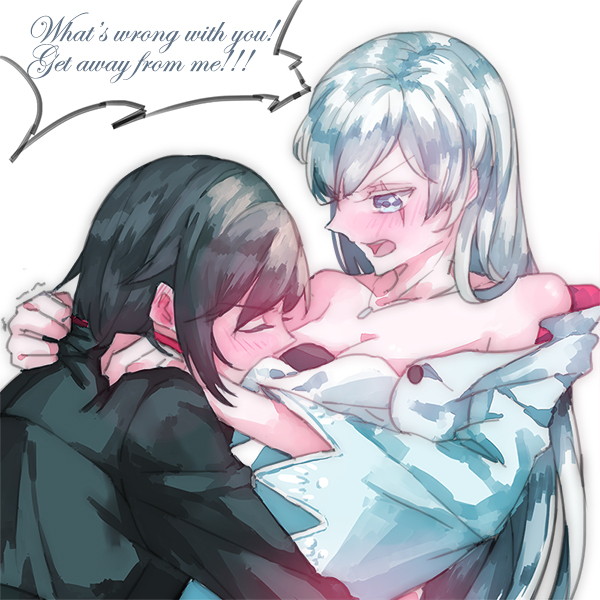 yuikumari Feb 14, 2017 8:44PM
weiss , uu knoe uu want ruby 2 kiss uu
Norainhere Feb 14, 2017 8:45PM
Oi, that's a bit harsh. Although seeing as they're already at that stage, it begs the question of how Ruby got that far if Weiss was so against it.
lord-of-roses Feb 14, 2017 10:44PM
She's playing hard to get ;)
Rainbowanime Feb 15, 2017 12:48AM
"Shut up, don't touch me!"

Mimiyaah Feb 15, 2017 1:10AM
Yes yes! Touch her! ლ(´ڡ`ლ)

Thalya Feb 15, 2017 4:05AM
Look, her right hand is shaking !
IT'S TSUNDERE LEVEL 9999
[deleted] Feb 16, 2017 8:32PM
YEESSSHHHH THERE IT IS! MA WHITE ROSE!! >~<
Zuess103 Feb 21, 2017 9:12PM
Ah, looks like Ruby's getting frustrated
I can't blame her XD
Yuuki_Kaito Jun 21, 2018 2:30AM
Weiss: I have no idea what's going on
Yang: explain the games rule
Ruby: face on table cries basically Weiss win in three moves
Weiss: Muahahahahahaha
Yang: TRAP ACTIVATED Your army is now whipped out
Weiss: cries I hate this game of emotion we play
Ruby: hug Weiss cries be strong Weiss we'll get through this somehow
Weiss: shut up don't touch me hugs back
The picture remind me of this episode lol xD
last edited at Jun 21, 2018 2:35AM
Yuuki_Kaito Jun 21, 2018 2:34AM