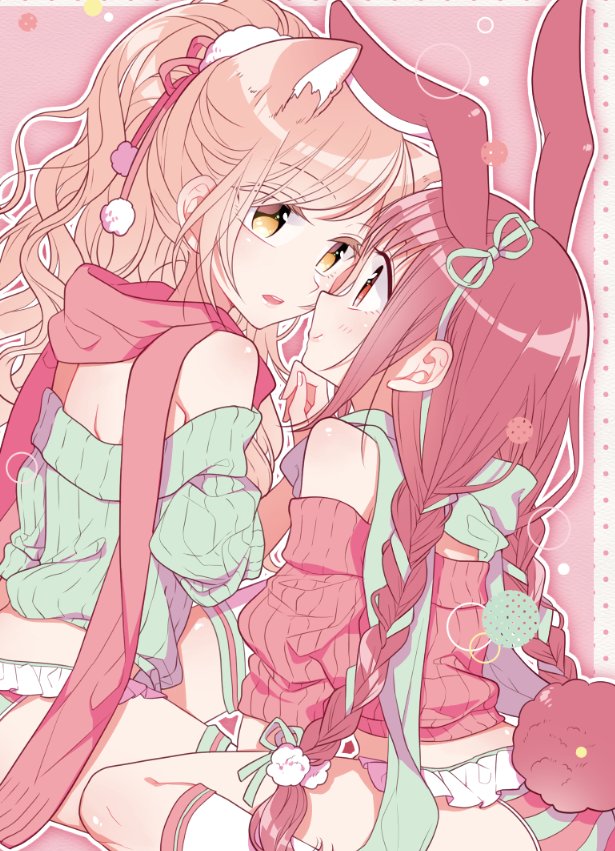 mint-leaf Dec 13, 2016 11:06PM
So sweet! Plus, animal ears are always welcome.

Breakdanceanomicon Dec 13, 2016 11:27PM
Didn't expect something so sexual from this artist. Nice.
taiyou_scandalous Dec 13, 2016 11:45PM
gotta love yukiko and her color schemes...
benja Dec 14, 2016 1:32AM
hot

Kayo-chin Dec 14, 2016 2:00AM
I don't like animal ears... that aside, this picture is suuuuuuper cute!

yuikumari Dec 14, 2016 2:21AM
they look so cute together <3 .. ii wounder if the writer is qanna end up making the story as them going out ? .. ii wish that happends

Mimiyaah Dec 14, 2016 3:13AM
Omg they are soo cute!! (//∇//)\
Homura E.N.D Dec 14, 2016 7:33AM
Love animal ears <3

SaintPata Dec 15, 2016 12:27PM
When the official bonus art is yurier than the series itself
SF Dec 17, 2016 3:33PM
Everything about this picture is amazing.

winterdew Jan 10, 2017 8:48AM
i wonder if you can call this one sexual or something. i couldn't even notice about their costumes before i read the comments about it, just felt that the picture was super cute and fluffy
last edited at Jan 10, 2017 8:51AM

Ericchi May 28, 2017 12:00AM
NOOOOW KISSSSSSS