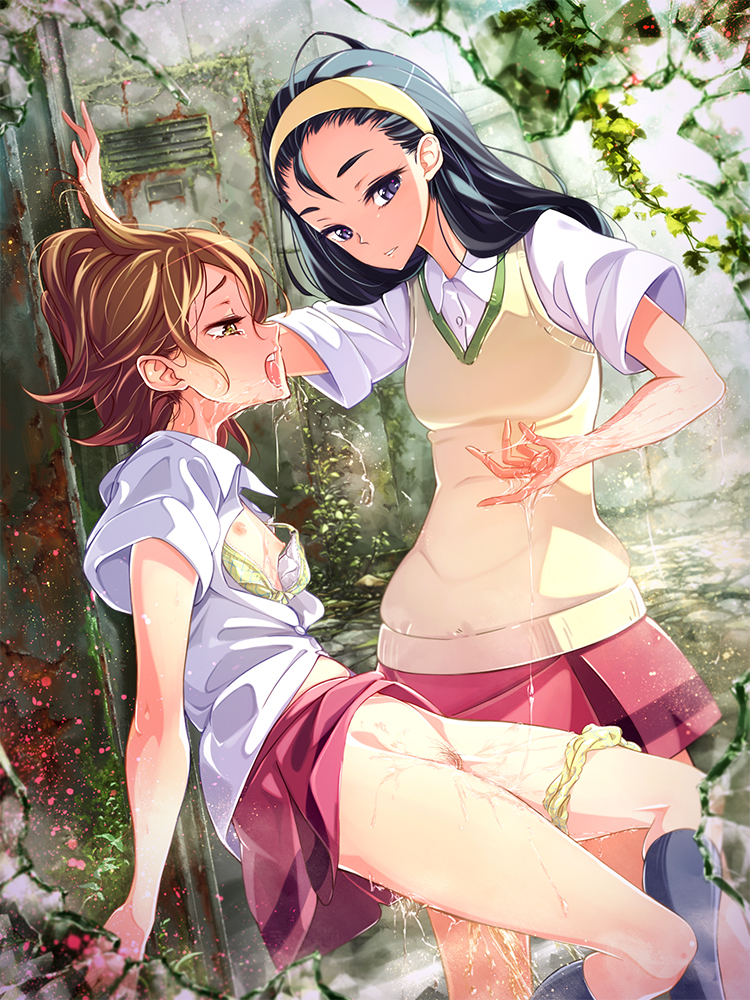 Norainhere Dec 5, 2016 10:34PM
Who else remembers these two from ORAS?

Kyonne Dec 5, 2016 11:11PM
Did she die?
LumberingCrane Dec 5, 2016 11:16PM
I remember them; they were pretty gay.

Nezchan Dec 5, 2016 11:16PM
I don't think breasts work like that...
mint-leaf Dec 5, 2016 11:43PM
That is a frightening amount of fluid.
Faust Dec 5, 2016 11:44PM
What is the pairing?
LumberingCrane Dec 5, 2016 11:48PM
Teammates Anna & Meg.
last edited at Dec 5, 2016 11:50PM
Faust Dec 5, 2016 11:51PM
Ah I see. I skipped the ORAS games >_>
On the other hand, holy fucking shit I can't believe someone drew that, the thirst is real
I just googled them, wow, there's fanfiction. I didn't think ppl ever paid attention to the random trainers
last edited at Dec 5, 2016 11:53PM
LumberingCrane Dec 5, 2016 11:56PM
This scene is most likely an interpretation of that one moment where you enter a locked room and find these two next to each other. Girl with black hair says something along the lines of "I swear I locked the room" and shoves you out while other girl is blushing I think. The explanation black haired girl gives is that she was training her teammate to train pokemon. But the context is that this takes place in a decrepit abandoned facility (as shown in the image above), so it's pretty much a poorly thought out excuse.
Faust Dec 6, 2016 12:02AM
I just read that on TV Tropes


Wow. Tbh, I don't think I would have thought of that, even if I had played the games. I think I become really dense when I play pokemon, I don't think much of the dialogues, usually. But wow, interesting
last edited at Dec 6, 2016 12:05AM
Norainhere Dec 6, 2016 12:57AM
They're probably not the same Teammates Anna and Meg that you fight on Hoenn Route 117, since there are multiple instances of the Teammate trainer class that all look the same. Of course, that just means there's at least two Teammate couples in ORAS.


Licksdat Dec 6, 2016 1:20AM
Wow. Now I need to stop skipping dialogues.

yuikumari Dec 6, 2016 2:35AM
wow she exploded with pleasure <3 <3 <3 ..

Hollows Dec 6, 2016 3:14AM
@AAAAANNNTS Yeah but Lillie is really really gay.

Orochi5 Dec 6, 2016 7:39AM
Duuuuuuuddeeee she like fucking HIGH-KEY fist her, like look how far the juices go from her hand!!!! 0.0

Mimiyaah Dec 6, 2016 8:37AM
WOAH!! (//∇//)\
SF Dec 6, 2016 5:13PM
Jesus Christ.

Valanz Dec 29, 2016 1:57AM
So that coming since emerald :'D
By the way, notice how clean the black haired one is, so she made all that mess with only one hand... all around the other one with only one hand... thous are some nasty skills!!! O////O
last edited at Dec 29, 2016 2:03AM
Mckydo May 21, 2017 4:18AM
Holy shit that is intense