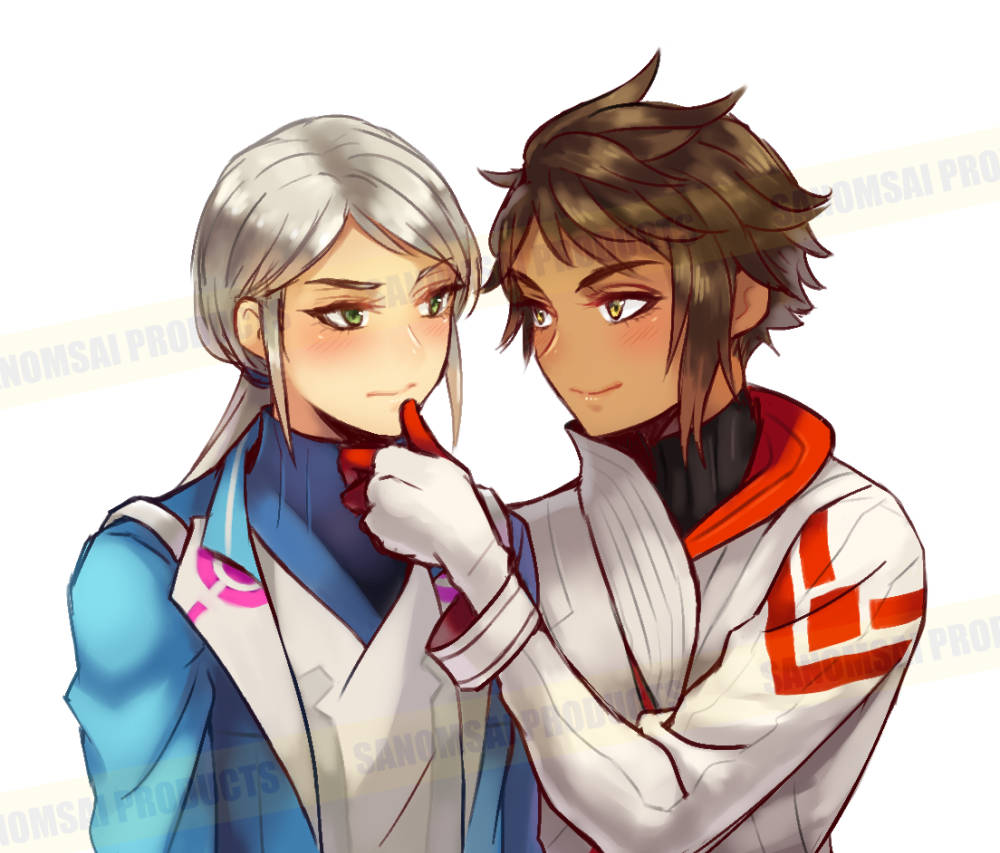 Norainhere Aug 12, 2016 12:08AM
Heh, the shipping of Valor and Mystic's leaders was probably inevitable but I still really like the way it's played out.

loudsea Aug 12, 2016 2:54AM
I've been expecting this. I am not disappointed.

Jigglyfuck Aug 12, 2016 5:33AM
Instinct in the background: "GAAAAAAAAAAAYYYY!"

spikesagitta Aug 12, 2016 8:28AM
Nah, we're all lifting up boards with "aww" written over it :3
Homura E.N.D Aug 12, 2016 8:52AM
Wait, the one from Mystic is a guy, isn't he? Is this genderbend?

AhaGAAAY Aug 12, 2016 9:32AM
Nah, Mystic and Valor are both women, Instinct is the only dude.

RyukoMiku Aug 12, 2016 4:34PM
The lesbeans <3 and then theres.... spark.
Mimi flore Aug 12, 2016 5:16PM
my girlfriend and i chose mystic and valor, while our only mutual male friend chose instinct. coincidence?? probably.
this is super cute either way. blanche and candela being paired was going to happen eventually, but i like how ridiculous the ship art's been.

yuri goggles Aug 13, 2016 1:03AM
GOTTA CATCH EM' ALL

lucario14 Aug 13, 2016 4:00PM
Is blanche a woman?

stripeanderson Aug 13, 2016 9:13PM
A lot of people just agreed with Blanche as being non-binary and I think that's great. Has it been officially announced that Blanche is a lady?
Also #Team Valor
Picked it off the bat cause i know I'd be gay af for the leader. I was right.
Mimi flore Aug 13, 2016 11:54PM
@stripeanderson (how do you reply to these)
first, good taste. valor life. anyways, i vaguely remember seeing the character designer of the leaders saying something like 'blanche can be interpreted however you want!' and i don't think there's any more official source than the actual designer!
is blanche a guy with really long hair? are they an androgynous girl? are they neither? who knows! just choose whatever interpretation you like best!

KaRin Aug 15, 2016 4:37AM
@lucario14 Check Pokemon Wikia Blanche is a female
Homura E.N.D Aug 15, 2016 5:15PM
@AhaGAAAY Lol, thank you, you're right xD
I always thought that Blanche was a dude xD

Kurosaki Aug 15, 2016 6:15PM
@stripeanderson
Damn, you too? #Team Valor

yuikumari Aug 15, 2016 8:17PM
<3 <3
Ruequi Aug 21, 2016 9:42AM
Pokemon Go story in my head (inspired by Tumblr): The semi-dorky sexy lesbian and her non-binary tsuntsun cutie girlfriend with their memelord naruto swag-dab awesome son.