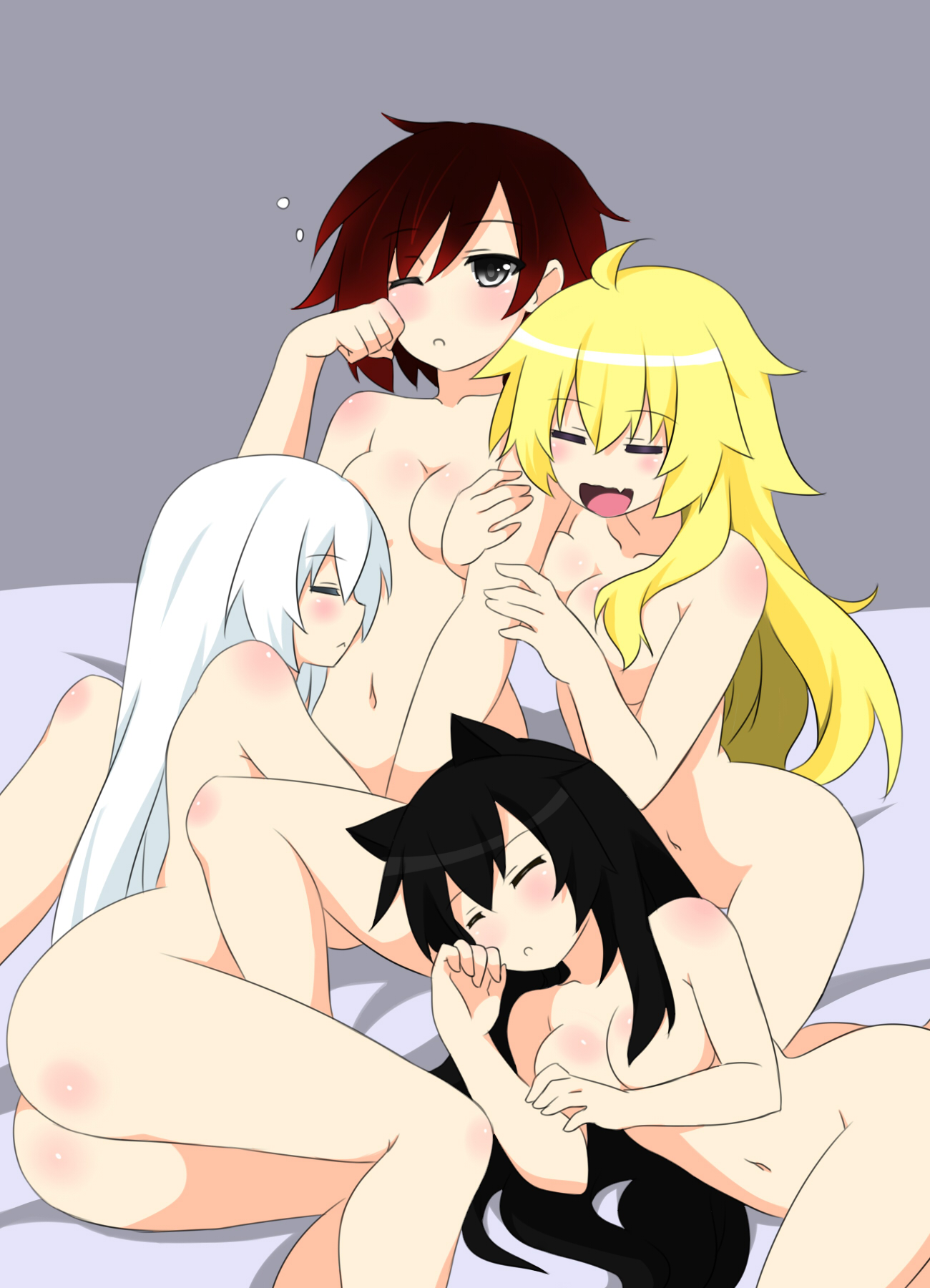 none Jul 18, 2016 10:30PM
Wild party last night, eh?
REDflame23 Jul 18, 2016 10:46PM
Someone had fun
Serenata Jul 18, 2016 11:42PM
Teamwork

CaliforniaLove13 Jul 19, 2016 12:08AM
Yay ;) last night best four some by team rwby

sugus545 Jul 19, 2016 12:25AM
When you don't know who to ship . Just slap 'em all together. DONE.

yuikumari Jul 19, 2016 1:17AM
4some maybe <3 ..
last edited at Jul 19, 2016 1:18AM

Textgirl Jul 19, 2016 2:27AM
Yassss
HopeFromYuri Jul 19, 2016 6:36AM
Ahahaa

Commandershepard13 Jul 19, 2016 4:02PM
For those wondering, the ship name for all of team RWBY together is "Rainbow".

BlakeBellaRose Jul 19, 2016 9:39PM
@Commandershepard13
I'm more than 100% sure it's called "Pollination". Makes more sense, Ruby X Weiss is WhiteRose and Yang X Blake is Bumbleby(-bee).

Hak-Master Jul 20, 2016 1:20AM
You my friend, BlakeBellaRose, are the best just for that comment.

THINK86200 Jul 20, 2016 1:34AM
Too cute.

Wrabbit Jul 20, 2016 2:21AM
So, does this count as incest?

BlakeBellaRose Jul 23, 2016 4:48AM
@Hak-Master
Thank you very much
@Wrabbit
Well, Yang and Ruby ARE half-sisters. Yes, since Pollination is all of Team RWBY in a relationship. Take that as you will.
Rainbowanime Aug 5, 2016 5:18AM
I wish I could wake up to that :'(
SilentLumination Dec 13, 2016 3:25PM
what happened here??
SF Dec 13, 2016 8:37PM
@SilentLumination


last edited at Dec 13, 2016 8:41PM
Nekofanatic May 14, 2017 8:39PM
Welp, I know what I'm lucid dreaming about tonight.