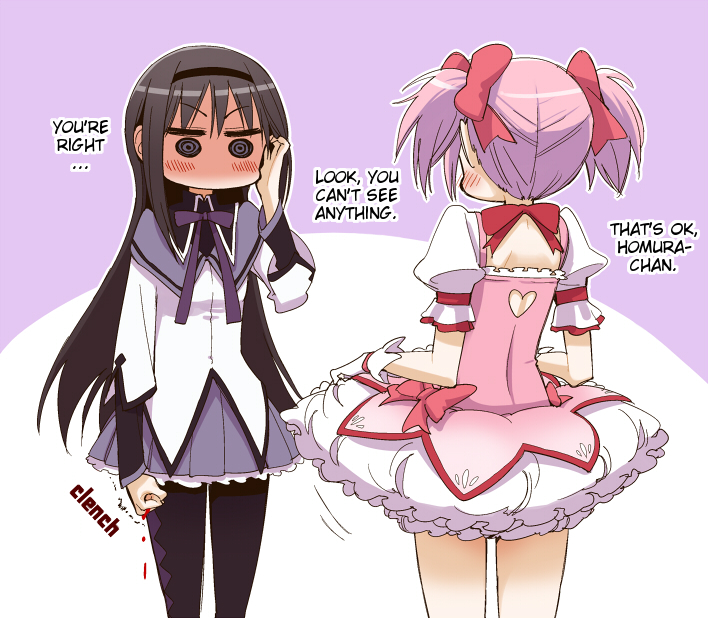 Salamandrake Feb 8, 2016 11:40PM
I'm surprised Homura didn't get a massive nosebleed and instead clenched her fist so tight it's bleeding.

yuikumari Feb 9, 2016 12:24AM
she was try'n so hard she got a bloody hand ..

Chantelune Feb 9, 2016 1:46AM
Very first sentence of that one might have been "Madoka, with that short a dress, people will see your panties !" :3

HopeFromYuri Feb 9, 2016 4:05AM
Ufufu, homura , lucky!
[deleted] Feb 9, 2016 5:16AM
What's NOT there to see!!?! O///O
Rakusa Feb 9, 2016 7:37AM
Woww 0///0
elevown Feb 9, 2016 10:02AM
Im not sure what's not to see either - it could mean she has sensible underwear / spats or something like Misaka Makato - or that she isn't wearing any panties / and or has no hair?
I like it either way :)
Rakusa Feb 9, 2016 11:41AM
MISAKA MIKOTO
sorry i just love her so much tbh
(fave character of all time, yes)
But i guess Homura's just adoring her panties :D
kagakujinjya Feb 9, 2016 12:14PM
Madoka wears pumpkin pants.

Homura E.N.D Feb 9, 2016 3:56PM
Homu...your Hand...is bleeding.
Gzt Feb 9, 2016 5:56PM
OMG~ I LOVE YOU~~ <333 I SHIP THEM BADLY!

Prince_Anime Mar 24, 2016 8:04AM
Uh huuuuh~~~ ;)
Nekofanatic Apr 17, 2017 4:49PM
Cue Fairy Tale fanservice noise.
wooooooow~