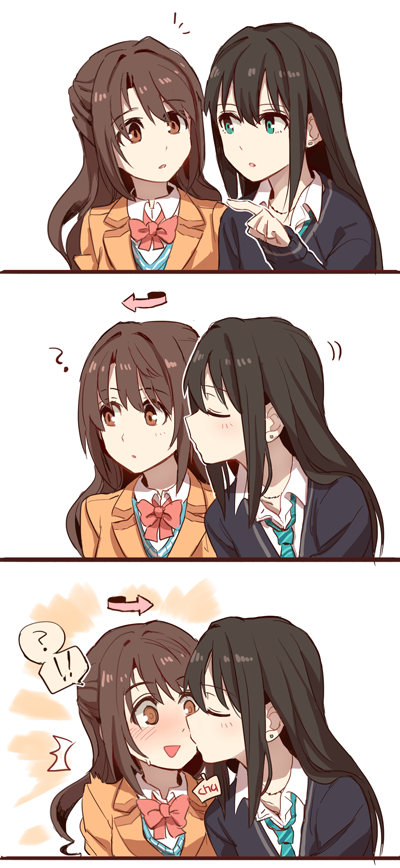 AshuraX Sep 16, 2015 11:30PM
Smooth.
confused1203 Sep 17, 2015 2:52AM
Cute!
[deleted] Sep 17, 2015 6:05AM
Haha that's how it goes! >~<

9Hampnie8 Sep 17, 2015 8:56AM
Kawaii :3
UzuRin is just the best !!

adyatma16 Sep 17, 2015 8:57AM
I got heart attack! >_<,too late for medic
Mugino Sep 17, 2015 11:21AM
So close!
Toshi Sep 20, 2015 6:10PM
Haaa ~ cute.

DaiWolf Jan 13, 2016 9:30AM
nosebleed someone help me....x_x

Jathea May 16, 2016 10:40PM
ive pranked a lot of girls with making them look the other side but i just use my finger to hit their cheek. should have used my lips instead dang! i wonder how many girls would slap my face if i did that???

YurixLily Jun 25, 2016 10:06AM
^ depending how many times you did it and how pretty/handsome you look probably... ^_^

Yuri Otaku Taku Aug 3, 2016 3:10PM
I do dat a lot :3

yuri n wine Oct 24, 2018 4:39PM
I did this one time and accidentally kissed their lips. But I guarantee it wasn't as cute as Rin and Uzuki