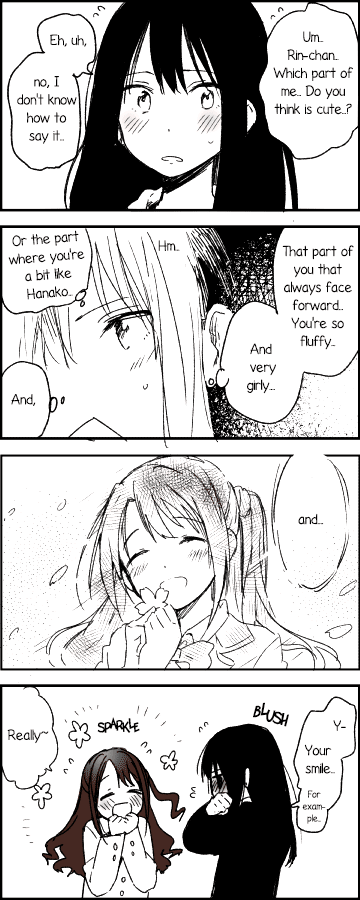 satsunyan Sep 12, 2015 10:11AM
UzuRin gay af manga 100/10

telamon Sep 12, 2015 10:28AM
These are adorable. No author tag though?
Rakusa Sep 12, 2015 12:53PM
Momose

flips Sep 12, 2015 6:32PM
HNNNG!
[deleted] Sep 12, 2015 10:25PM
Who's Hanako?? O_O
ANYWAYS Uzuki and Rin sooo LOVELYYY >~<

9Hampnie8 Sep 13, 2015 7:01AM
Awwww ~
I get my diabetes again....
Help.....
satsunyan Sep 13, 2015 8:49AM
Who's Hanako?? O_O
Hanako is Rin's dog.
last edited at Sep 13, 2015 8:49AM

AshuraX Sep 13, 2015 12:10PM
Please. please for the love of God bring these two together. The latest episodes of S2 is REALLY bugging me and these two are so cute and I want them to have kids together and and and GOD
[deleted] Sep 13, 2015 7:52PM
THANKZ for the reply about Hanako! >~<
ANd the comment above me, i also need something to cure ma UzukixRin heart cuz the latest episodes keep me really SAAAD, need MORE UzukiXRin moments too!!! >_<
UzukixRin ALL DA WAY~
Phil Sep 14, 2015 9:33AM
Here's to hoping "Glass Slippers" is able to make amends on Friday.
They really broke Shimamu. >:(

mazvika Sep 16, 2015 1:23AM
Pa-kyun! xD
Toshi Sep 20, 2015 6:13PM
"It was your smile".
Let's hope she keeps it.

AshuraX Sep 22, 2015 9:12AM
^the new episode killed me

Bolias-san Nov 13, 2020 9:00PM
Her smile is so beautiful ;-;