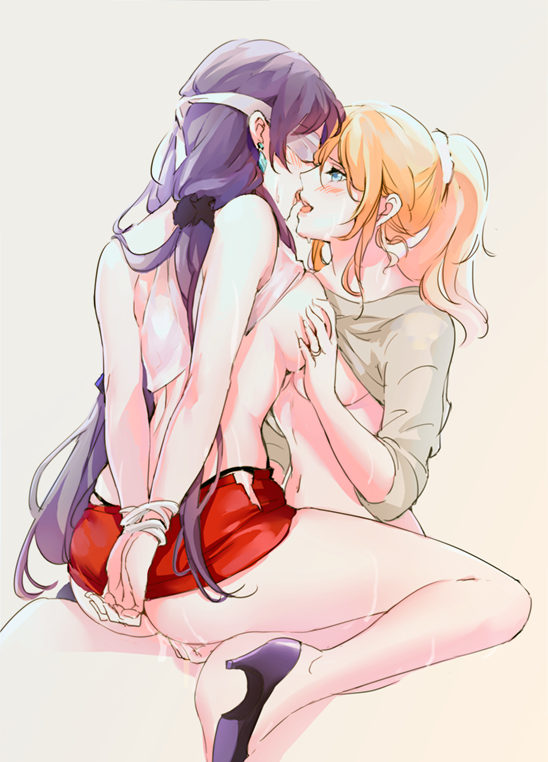 Satsuki Jul 5, 2015 6:02AM
Oh wow.
[deleted] Jul 5, 2015 9:30AM
OMGEEEEE SEXY AZZZZ LOVE MAKING! >////<
LOVE NozoEri~
Btw is Nozo's shorts ripping apart or what? XD

selene5deum Jul 5, 2015 11:15AM
Yasssss BDSM Nozoeri is best Nozoeri

YuzuYuri Jul 5, 2015 11:31PM
Fifty Shades of Ayase.

yoshhh Jul 6, 2015 2:10AM
another great work from my fav author Lilac! Woohooo :3 :3 //v //

YuriSenpai Jul 9, 2015 4:38PM
ERI'S RIGHT HAND. LOOK AT IT. OMG. dies
Lilac is the best at sexy time NozoEri.
Toshi Jul 11, 2015 1:03AM
Nice.

SulliMike23 Jul 14, 2015 12:40AM
Wait a sec! I see a ring on Eri's finger! Does this mean the two of them are married?
Vircoph Jul 17, 2015 1:55PM
@SulliMike23
And, obviously, they are tying the knot. xDDDDDDD
Gzt Dec 19, 2015 10:20AM
Bondage is sexy..

WheeinLove May 21, 2020 8:48AM
Top Eli is hot
Bottom Eli is hot
Switch Eli is hot
Eli is hot

せんちょう Feb 24, 2021 10:49AM
Top Eli is a shock, but I won't complain. Cause I approve.