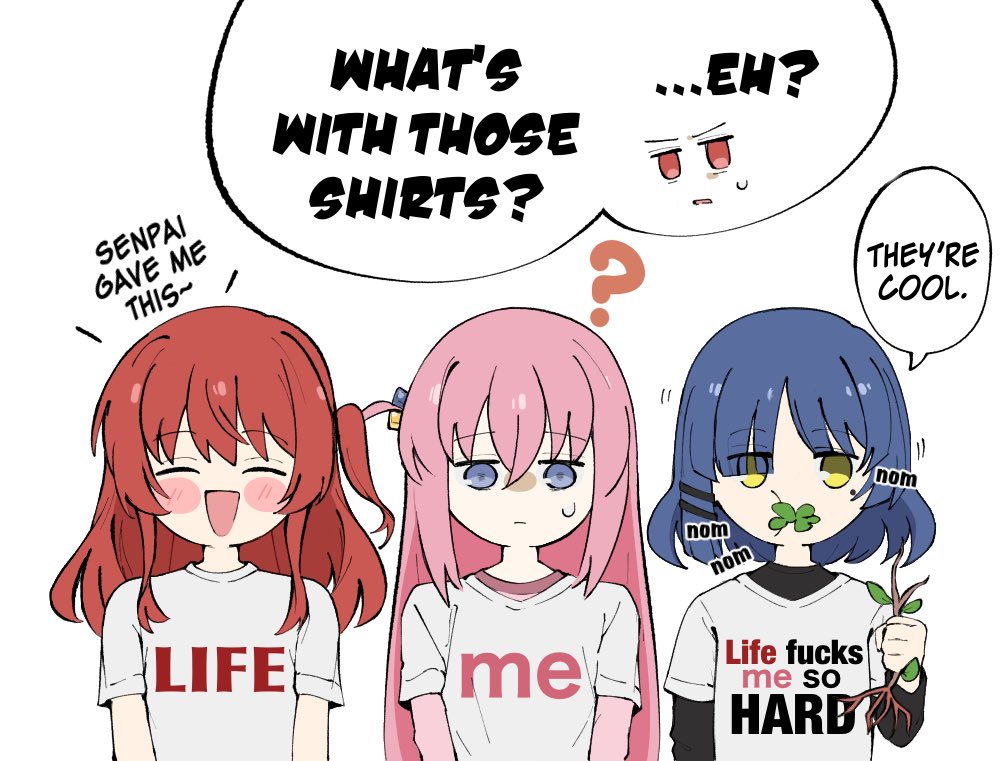 Yuri Yuriyuri Jan 23, 2023 10:50PM
Ryo knows
She thinks it's funny

GrimEater Jan 23, 2023 11:38PM
Fuck me life

Eileen Jan 24, 2023 12:03AM
I needed a few secs to get the joke. :/

Col Picquart Jan 24, 2023 1:16AM
This is Ryo's elaborate assassination plan to get Bocchi to go nuclear when she works it out

Zormau Jan 24, 2023 4:50AM
Notice how once again Ryo has made bad financial decisions buying those shirts, so she has to eat greenery.

DY4Y Jan 24, 2023 5:31AM
Well, when life gives you lemons...
"lemon" is an old fanfiction term that refers to pornographic content

TLM17 Jan 24, 2023 6:31AM
I want a picture of this after they get it!!
luinthoron Jan 24, 2023 6:39AM
Cute.

livingice Jan 24, 2023 1:52PM
Man I'm so jealous of me fr

Avaz Jan 24, 2023 3:36PM
Sad thing is, that can also happened literally.
Komi028 Jan 25, 2023 1:00AM
Finally this picture is here, feels like it's been months since I saw it.

Needagirl Jan 25, 2023 10:29AM
Based Ryo strikes again
wlftchtr82 Jan 25, 2023 5:06PM
Kita is oblivious but Bocchi looks like she knows something is wrong

juanelric Jan 25, 2023 5:44PM
Also I thought for sure this was already on the site
sunspawn Jan 26, 2023 2:02PM
I doubt Bocchi knows something is wrong, more likely she is just being herself.

DY4Y Jan 26, 2023 3:50PM
Bocchi knows the shirts should be reversed

Off_Mango Jan 30, 2023 12:00AM
Ryo spent all her money to buy Kita the shirts, so she's in the side eating weeds lol
taetaetr Jan 30, 2023 4:45AM
Ryo never disappoints. now one serving of weed for you.