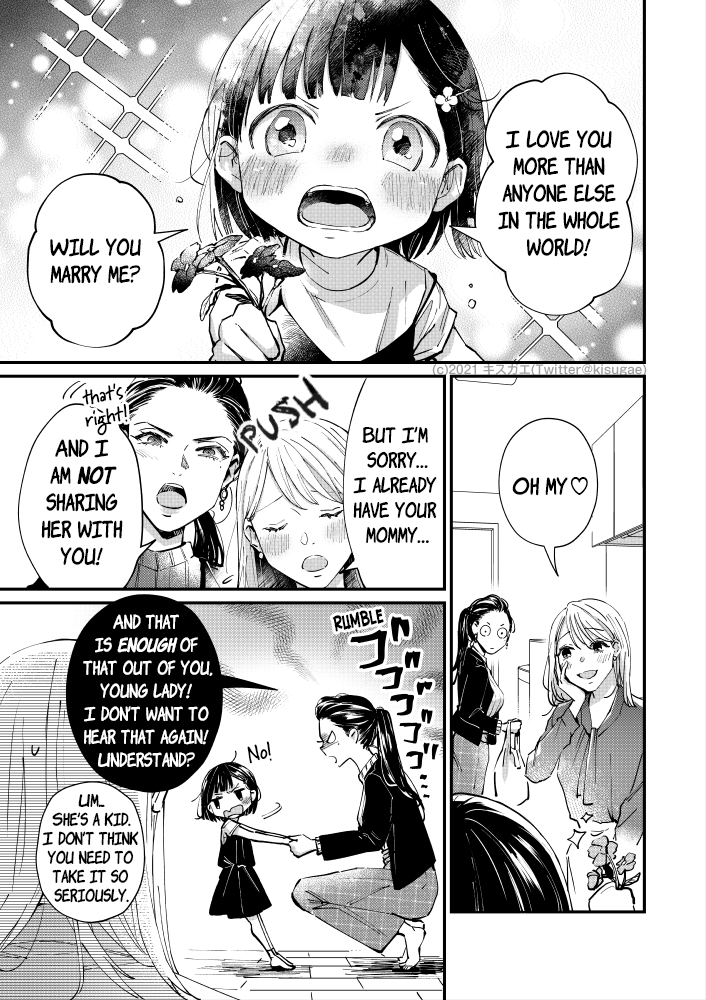 lord-of-roses Apr 4, 2022 10:38PM
Nah, lady's read enough incest/age gap yuri to know where this is going.
She can't take any chances with the kids.

random Apr 4, 2022 10:55PM
Yeah, probably doesn't want this happening down the road in her house o3o

GrimEater Apr 4, 2022 10:55PM
Tough love?

Hot_Soup43 Apr 4, 2022 11:45PM
Family quarreling, now that's wholesome.
luinthoron Apr 5, 2022 6:06AM
Adorable.

Kojiro481 Apr 5, 2022 8:35AM
There's legit determination in the little girl's eyes. It totally feels like she'll try again when she's older :P
FluffyCow Apr 5, 2022 3:14PM
Well this is super cute.

dewaaa Apr 5, 2022 5:22PM
Rival for the rest of their lives

Sufficient Agony Apr 5, 2022 5:40PM
She's seen enough to know how this goes. She ain't playing. Gotta assert dominance on the young ones before they get smart with ya.

Flanny Apr 5, 2022 5:40PM
Trust no one, not even your own daughter. Especially your own daughter...

Random Wanderer Apr 6, 2022 4:00AM
Guess the daughter will just have to aim for the poly route instead.
...What? :P
LustGreed Apr 7, 2022 7:46AM
10 years and they could be this lol
Maximus66 Apr 7, 2022 3:12PM
I suggest anyone interested in such feelings to read "1 x 1/2 - My Half of You" at Mangadex or elsewhere
YayaSamuko Jul 12, 2022 4:04AM
She has read enough mother x daughter manga to know where this is going