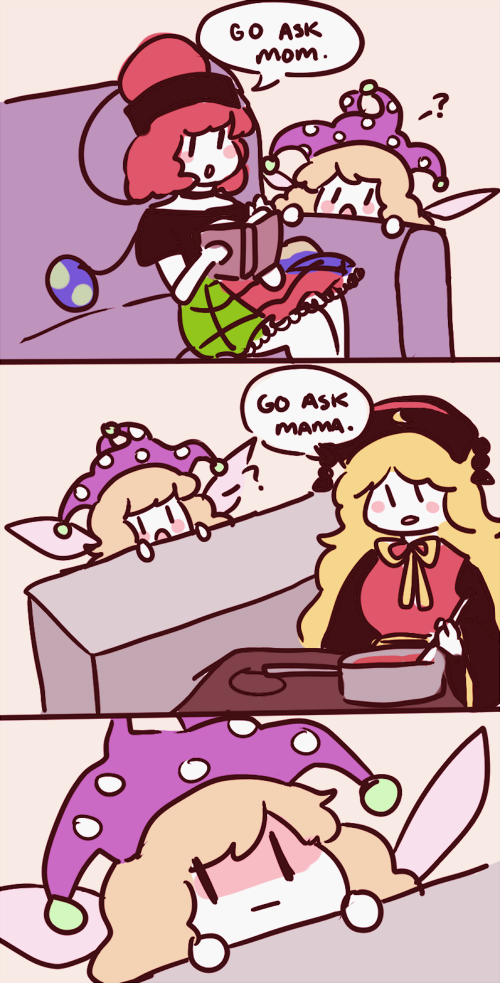 Norainhere Oct 8, 2021 9:11PM
"a day in the life of clownpiss"
Swag Wagon Oct 8, 2021 9:28PM
This is the part where you lie and say "She said yes"

ninryu Oct 9, 2021 9:19AM
I feel it was posted here before.
Vusuko Oct 9, 2021 5:03PM
The infinite loop..

Missigno Oct 9, 2021 5:28PM
The trouble of every kid with gay parents

SushiKnight Oct 11, 2021 12:31AM
There is simply not enough of these three out there.
edit: just looked at all the other HecaJun images on dynasty (again) and apparently I say this every time I see them. I might be a bit obsessed.
I'm not wrong though.
last edited at Oct 11, 2021 12:46AM
FilthyFlow Oct 11, 2021 1:17PM
I remember seeing some Japanese thread on some website that archived 2chan posts or whatever, and apparently they regard Hecatia/Junko as being something Westerners are mostly into, with Reisen/Junko being the more popular ship in Japan or something along those lines, I believe the topic came up because somebody asked why Hecajun dropped off in popularity. I mean a quick look at pixiv has 306 images in the Udojun tag compared to 287 in the Hecajun tag so I dunno.
last edited at Oct 11, 2021 1:18PM

OrangePekoe Oct 11, 2021 4:03PM
This is amazing

SandfallSkyrocket Mar 20, 2022 4:32AM
pain

juanelric Mar 20, 2022 12:28PM
XD
YayaSamuko Jul 12, 2022 4:06AM
The struggle is real

ロンバ Sep 1, 2022 11:03PM
This happens 70% time of my life