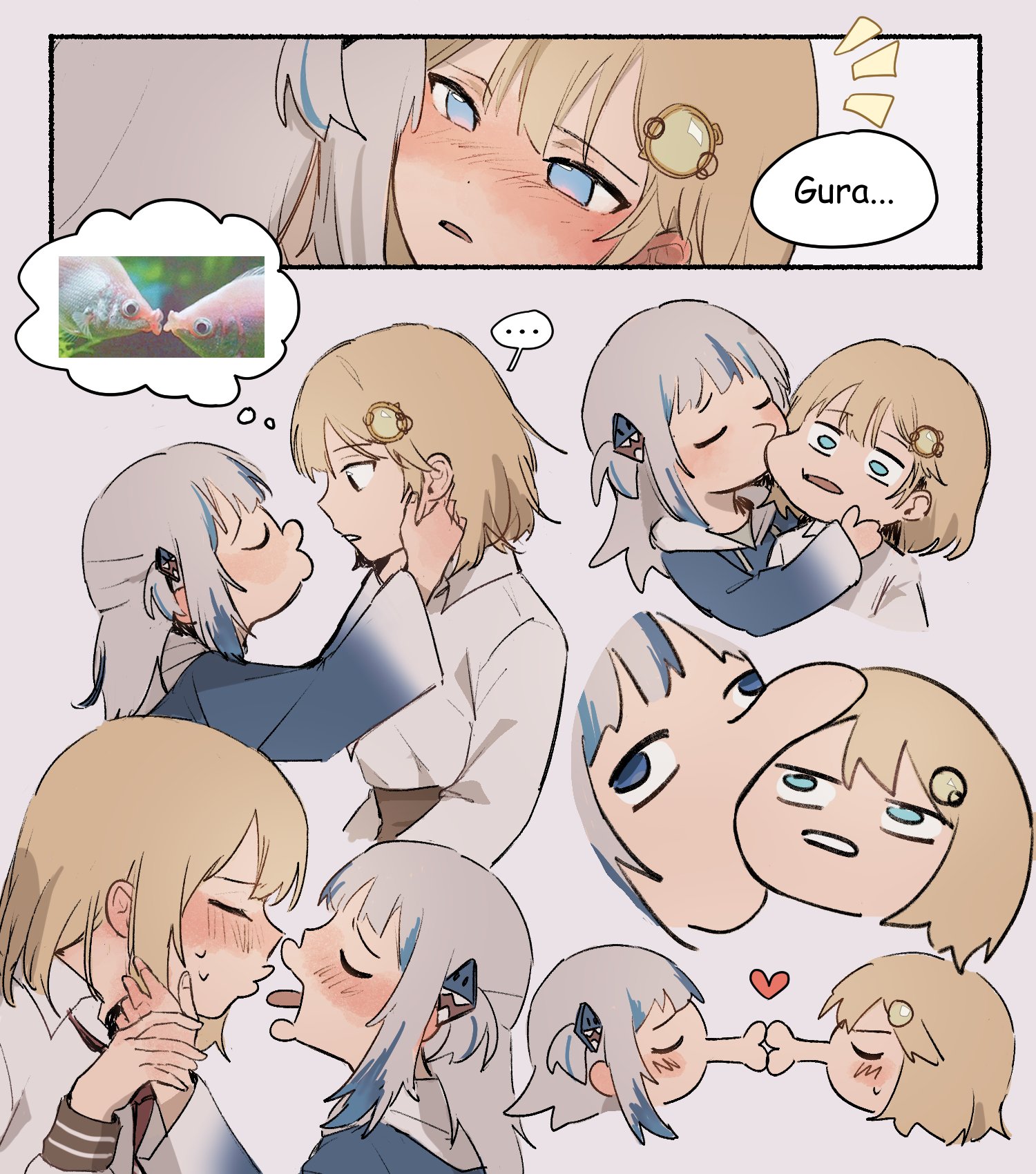 drpepperfan Jul 2, 2021 8:57PM
Bonus
BlueDsc Jul 2, 2021 9:32PM
It was just a kiss, how did it end up like this?
Also that bonus is great. Freckles are great.

17hunter00 Jul 2, 2021 10:15PM
This went from 0 romance to 100 comedy real quick.
FluffyCow Jul 2, 2021 10:22PM
Amen to that BlueDsc, freckles aren't drawn enough if you ask me.

BakaChiki Jul 2, 2021 11:20PM
Thank you for freckle ame.

Chantelune Jul 3, 2021 4:37AM
It's gura. It's never "just" anything. XD

Missigno Jul 3, 2021 5:20AM
Don't you love it when your gf chomps your whole face

Rye Jul 3, 2021 5:53AM
Gira was late for the stream because she was Ina bed with Ame, according to Ame herself. Source: her Twitter.

Future Hokagae Jul 3, 2021 10:54AM
(〃゚3゚〃)
beccamyoui Jul 3, 2021 12:34PM
nom nom

almighty Jul 3, 2021 9:55PM
cayoot

almond Jul 4, 2021 1:37PM
gura looks like a super mario enemy

Sakura Cartelet Jul 4, 2021 1:45PM
This is a super cute and funny picture.
nio_neka Jul 5, 2021 11:38PM
love how Gura's head grew big just to gobble part of her face
YayaSamuko Jul 6, 2021 10:26AM
Blessed + Cursed = this image

Yurimage Jul 7, 2021 6:51PM
Drpepperfan, I see thou art cultured.