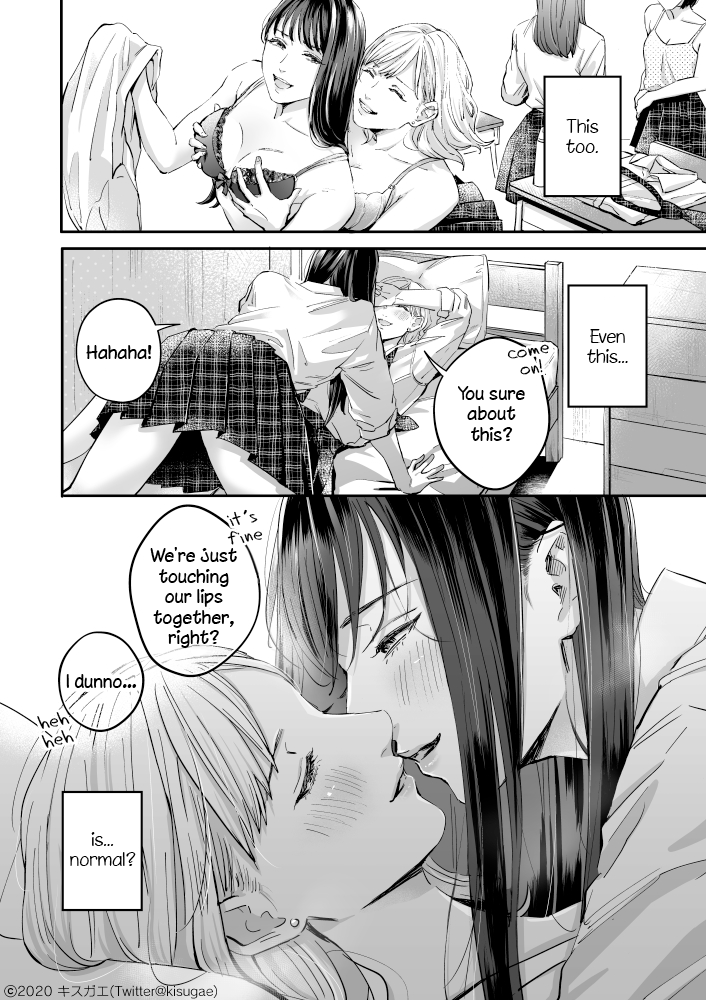 DY4Y May 7, 2021 9:07PM
"You are totally in love with me, aren't you?" seems to have changed its art style

EvelineClariss May 7, 2021 9:18PM
They seem to be very good friends
FluffyCow May 7, 2021 9:29PM
They say fingering is just a friendly greeting in some places.
IcePony May 7, 2021 11:02PM
Is just the way to grow the friendship
pseudosmug May 7, 2021 11:50PM
J U S T N O R M A L
Man I love Super Friends.
nio_neka May 8, 2021 12:10AM
NORMAL

unnameddoc May 8, 2021 1:20AM
This is literally that meme "anyone wanna be girl best friends" XD
pumpkinmonster May 8, 2021 1:55AM
this is normal

Gay_Paladin May 8, 2021 3:44AM
Yes this normal I can confirm me and my friend kiss eachother before sleeping

Yuri Yuriyuri May 8, 2021 4:43AM
Kiss your homies before you sleep~
If there's no tongue, that make you weak~
luinthoron May 8, 2021 6:22AM
They're clearly in normal.

random May 8, 2021 11:10AM
We're reaching levels of normal that should not be possible
Swag Wagon May 8, 2021 11:37AM
They're forgetting the "No Homo" rule! Quick, there's only one way to salvage this!
Amersion_ May 8, 2021 9:27PM
And they were very good friends!

ninryu May 9, 2021 2:19AM
"I love you, homie."

IresaFan May 10, 2021 11:33AM
How is this yuri? Clearly they're just friends touching lips. Nothing yuri going on here

mg1342mg May 10, 2021 12:35PM
Everything checks out here: just friends.
kai3 May 10, 2021 7:52PM
Yep normal
saayuw May 11, 2021 2:53AM
Just besties doing normal things

xxcindybeexx May 18, 2021 4:33AM
at least there's no handholding, that's taking things too far
NARESH4444 Jun 16, 2021 11:06PM
Sexual relations between two friends is perfectly normal,regardless of how soaked the bed gets.
But saying your friend has a nice coat is hella gay and definitely not a very Christian thing to do.
Do it again and they'll send you to an all girls Catholic school with girls who lack any sort of defense against your pursuit of friendship.