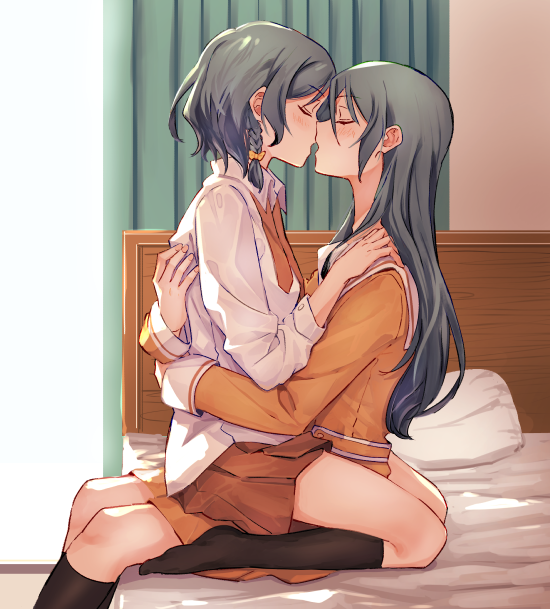 Lilliwyt Aug 17, 2020 9:40PM
Some twins bonding
WhyNotYuriAnime Aug 17, 2020 10:05PM
Now kiss
Amersion_ Aug 17, 2020 10:31PM
Cmon just a few more inches moreeee....

wowozers Aug 17, 2020 10:35PM
ahhh my eyes are blessed
raeminyr Aug 17, 2020 11:09PM
yes

You cant hear image they say Aug 18, 2020 1:23AM
no one gonna shout sayohina? fine i'll do it myself
SAAAAAAAAAAAAAAAAAYOOOOOOOOOOOOOOOOOOOHIIIIIIIIIINAAAAAAAAAAAAAAAAAAAAAAAAAAAAAAAAAA

Zen-Pai Aug 18, 2020 2:12AM
(((((Yeeeeeeeesssssss!!)))))))

mg1342mg Aug 18, 2020 12:16PM
Yummy.
pogotun Aug 18, 2020 10:01PM
OF COURSE OF COURSE

Throbelisk Aug 19, 2020 10:38AM
Vertical CPR

juanelric Aug 20, 2020 8:22PM
Just sisters getting along
GaE sTuf Aug 21, 2020 2:27AM
I have no words except for cute
SmallFriendlyScorpion Sep 22, 2020 7:11AM
Sayo's got that super long right arm

Xvnom Nov 17, 2020 11:34PM
Hot
Juoreg Mar 23, 2021 12:44PM
Sayo and Hina are probably my first incest ship..
I'm still surprised at myself but, they are just too cute.

cubmrs Jan 22, 2022 4:06AM
^
same