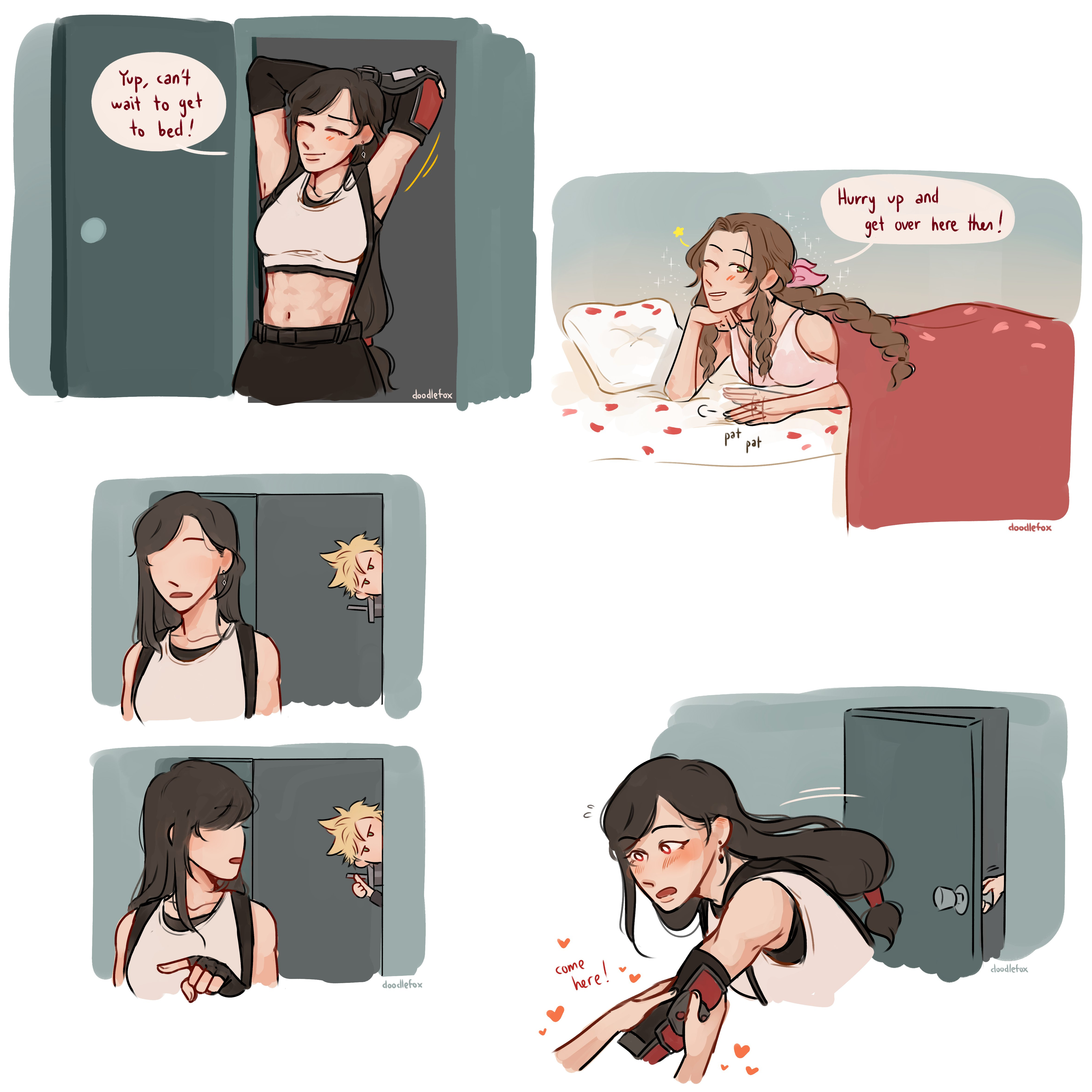 Shadowofdimentio May 4, 2020 9:29PM
I love Wingman Cloud

carlosraruto May 4, 2020 10:22PM
"Go get her, tiger!"

Aruzhan_Kii May 4, 2020 10:23PM
I bet Aerith paid him.
Phemon May 4, 2020 10:38PM
Wingman Cloud is the best. Helping get his useless lesbian childhood friend in action
KS YuuHaru May 4, 2020 10:52PM
Pros Bros xD

B-to480 May 4, 2020 11:37PM
Good, very good!
Ml33tninja May 4, 2020 11:38PM
Cloud: handle your business fam
nio_neka May 5, 2020 1:31AM
FFVII Remake: it was going to happen
last edited at May 5, 2020 1:32AM

BugDevil May 5, 2020 3:09AM
Aerith would never kill several roses just to make the bed more romantic!
(That's exactly what she would do)

Lil-Dumpster-Rat May 5, 2020 6:31AM
Cloud: "Good night ( ͡° ͜ʖ ͡°)"
BV May 5, 2020 6:33AM
Ah, yes, our favourite wingman makes an appearance again.

Bugpope May 5, 2020 7:14AM
I love how deadpan wingman Cloud always is.

xxSatsumaChan420xx May 5, 2020 11:45AM
best third wheel and wingman

Random Reader May 5, 2020 10:44PM
Cloud: "This is the moment you have been training for "
Also we need a whole wingman Cloud series.
And definitely a hashtag wingmancloud
last edited at May 5, 2020 10:44PM

BloodyRose May 6, 2020 8:56PM
Wingman Cloud is amazing