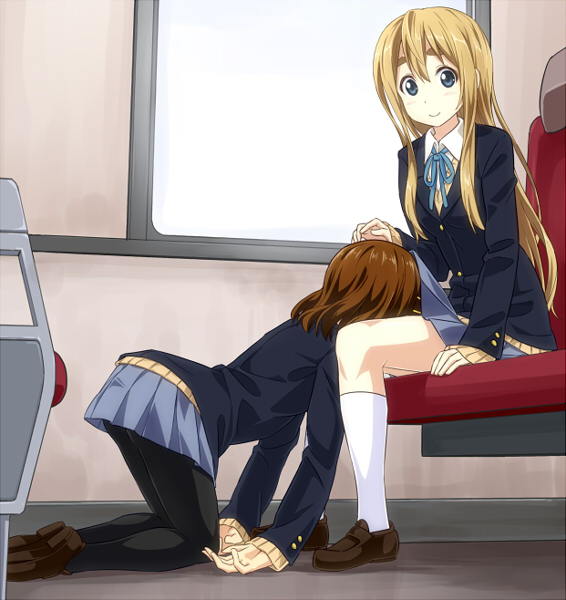 GrimEater Nov 4, 2019 9:26PM
This isn't my bed
Lilliwyt Nov 4, 2019 9:45PM
Is she asleep or did she fall down ?
Hauteclere Nov 4, 2019 10:23PM
Mugi be all, "What the fuck are you looking at? Keep walking."
Midnightgunner Nov 4, 2019 10:50PM
Okay. Help me out here, guys. Please discribe this scene as what you believe is happening...

Arendellecitizen Nov 4, 2019 10:53PM
Girl gets tired, goes under gfs skirt for a nap because her pussy and thighs are comfy

Aruzhan_Kii Nov 4, 2019 11:30PM
You know it's really easy to guess what happened here. Yui's face was cold and Mugi offered to warm it up in the best way possible.

HazmatChiefAlsimi Nov 5, 2019 12:13AM
Mugi lookin' happy.
Reiba1925 Nov 5, 2019 1:59AM
if only this was with azusa, I really want to see her reaction in that situation
Alpaca Nov 5, 2019 8:34AM
That's where Mugi keeps the cake

TitaBL85 Nov 5, 2019 8:50AM
K-On! deleted scene

juanelric Nov 5, 2019 10:07AM
w o w
Okami Nov 5, 2019 12:38PM
The only way to travel

Avaz Nov 5, 2019 5:44PM
I smell something, and that isn't a cake.
Marion Diabolito Nov 6, 2019 10:57AM
"Mugi, are you sure this is where I dropped the pick? And why can't I use my hands to get it?" "Shhh."
PendragonVMAX Nov 7, 2019 1:12AM
Is this what so called ekiben?
TheWidow-Sensei Nov 7, 2019 12:25PM
onmonmonmonmnom

SulliMike23 Nov 7, 2019 12:47PM
Uh...I don't think Yui is even conscious.

Lolaix Nov 8, 2019 12:27PM
how