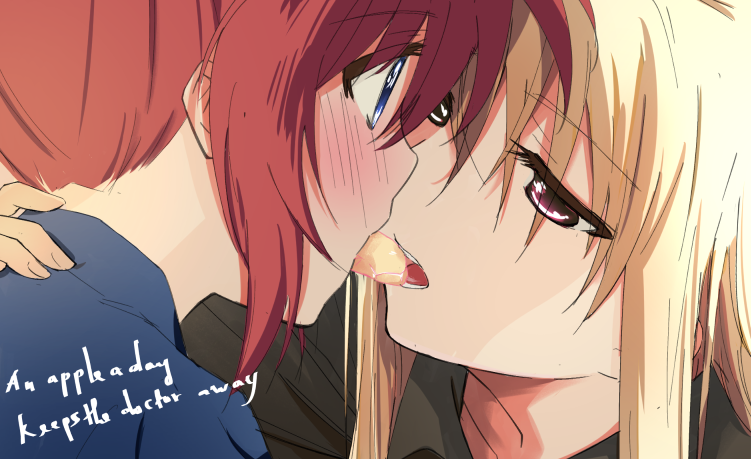 Guardian of the Lilies Sep 14, 2019 12:06AM
Fate needs her daily apple dose

Mayb Sep 14, 2019 1:44AM
Thought this was Kyoko and Akari lol

Rye Sep 14, 2019 1:55AM
More like "A NanoFate a day keeps depression away".

BugDevil Sep 14, 2019 2:52AM
NanoFate is always healthy.

Mimiyaah Sep 14, 2019 8:12AM
I recognize NanoFate when i see it!! Aww yiis just what i needed to start up my day~ I'm blessed
And now i kinda want apples... gonna get it..

hovering33 Sep 14, 2019 11:48AM
uhh!~ my heart
Timea817 Sep 14, 2019 1:35PM
<3

V-Oblivion Sep 14, 2019 9:55PM
Now that is gorgeous...
Obligatory Doctor Who screaming: BULL$HIT!

SulliMike23 Sep 15, 2019 2:49AM
Oh my...

FR6zen Sep 16, 2019 11:17AM
Fate is hawttttt ahhhhh
ReadingDoujinshi Sep 22, 2019 3:26AM
Wonder what's vivio doing huh...
Mostafa Dec 9, 2019 10:42PM
Kissing einheart obviously
like a healthy lesbian daughter would do