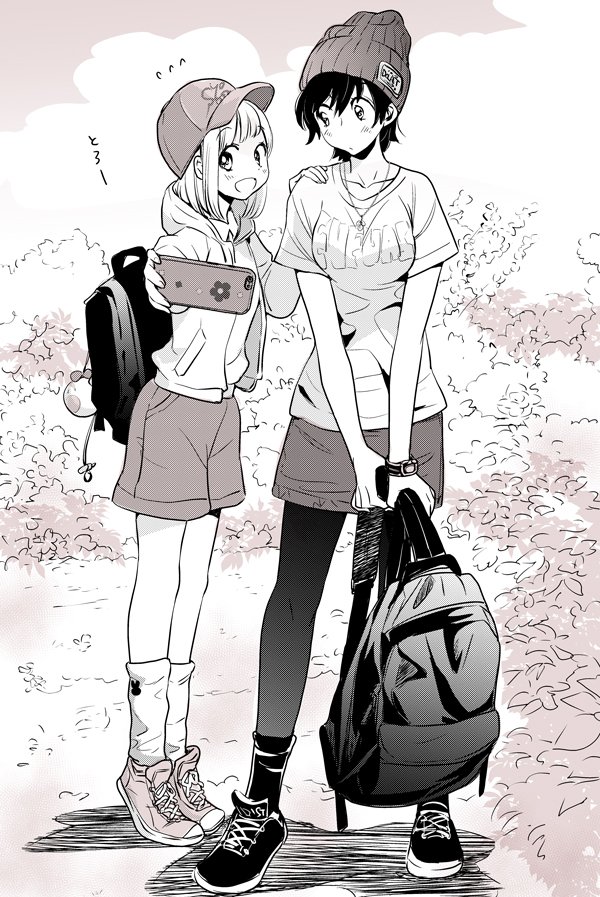 Sweet Dangus McGee Nov 6, 2018 9:52PM
cuuuuuute

Clueless1 Nov 6, 2018 9:58PM
Well done! The selfie cell phone adds depth to the drawing. Background detail also enhances the depth of field while channeling attention to subjects in the drawing. It is a treat to see the difference between fan art submissions and those who are truly artists in their professions.

Sup Nov 7, 2018 12:23AM
I love Kase just looking at Yamada being an adorable dork

BugDevil Nov 7, 2018 4:54AM
"Kase-san and Camping" chapter when?

cameron Nov 7, 2018 6:04AM
AHHHHHHHHHHHHHHHHHHHHHHHHHHH I love it. My second favorite couple!

Prince_Anime Nov 7, 2018 12:26PM
CUTE <3

Snapdragon beans Nov 7, 2018 1:14PM
They're so cute.
What is your first favourite couple cameron?

Vankomycin Nov 7, 2018 9:55PM
Yamada-san making up for lost time now that she's got a real phone.

auikimaya Nov 7, 2018 10:36PM
Yamada on her toes because this weigh gap is the love I need in my life

S31 Nov 8, 2018 9:14AM
Is it weird that this is probably the best drawn backpack I've ever seen? And that that's what I noticed about this picture?

gordisimo Nov 8, 2018 7:27PM
I would love to see a crossover between these two and Yuna/Hina from Kindred Spirits On The Roof where the two couples meet at a track event.

cameron Nov 8, 2018 8:23PM
@snapdragon Beans
The couple in Fusoroi (one half is my avatar)