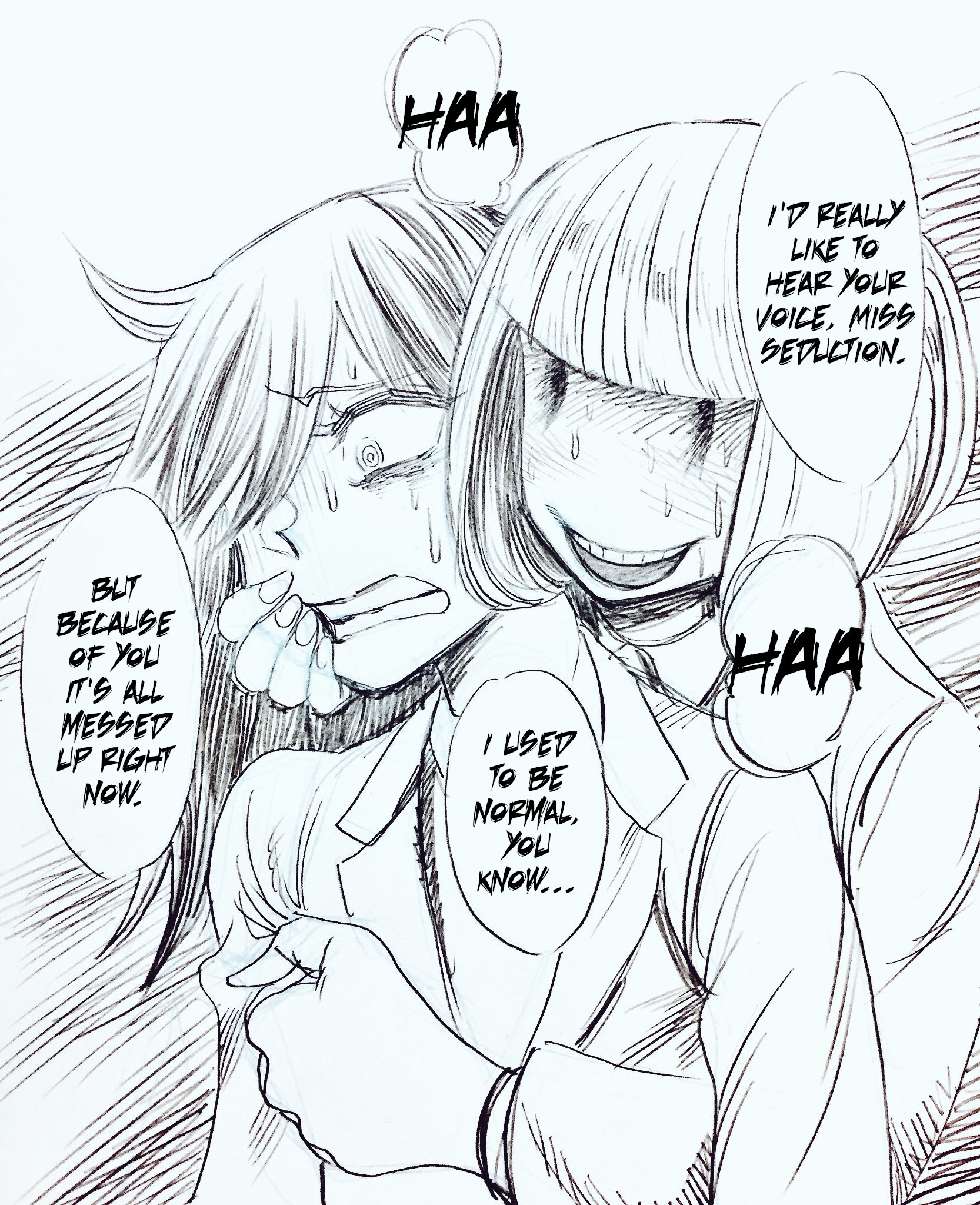 JasmineTJB Oct 23, 2018 9:01PM
whoa

Reirin Oct 23, 2018 9:33PM
That smile could easily be ugly
Entoma Oct 23, 2018 9:35PM
Ucchi's face reminds me of that monster from that smiley movie.

katewarner Oct 23, 2018 10:09PM
Fortunately, Ucchi is actually reaching out to Tomoko right now.

Vankomycin Oct 23, 2018 11:13PM
Getting a Gerald Scarfe vibe from the girl on the right.
Serenata Oct 24, 2018 1:54AM
OF COURSE is the author of Futari monologue XP

BugDevil Oct 24, 2018 3:28AM
D-i-s-g-u-s-t-i-n-g

Bowser Wowser Oct 24, 2018 3:45AM
I don't believe the part about her being normal in the past.
GrimEater Oct 24, 2018 3:59AM
I feel scared
Nekofanatic Oct 24, 2018 5:16AM
splashes holy water
The power of Christ compels you!!!

auikimaya Oct 24, 2018 11:19AM
When you're so disgusted by the disgusting that you become the disgusting

almighty Oct 24, 2018 12:43PM
friend: 'anime girls are cute when they smile'
me:
last edited at Oct 24, 2018 12:43PM

TeruMoko Oct 24, 2018 7:13PM
This is the most horrifying version of "take responsibility" I've ever seen!

Wahid Feb 25, 2019 3:12PM
Considering what this is parodying, shouldn't Attack on Titan be tagged here in some way?..
LegitUsername Oct 21, 2019 11:37AM
That's gonna be a fuckin yikes from me

felino Dec 12, 2019 1:01AM
it reminds me of that batman movie with the joker telling people "you wanna know how i got these scars?" while putting a knife in a girl's face.
This gives me those vibes with the "i used to be normal you know?"

Nishikinoxx Jun 7, 2020 5:00PM
Is that Slenderman?

syfalkda Jan 2, 2021 1:26AM
drools in submissive

Orangey Jan 31, 2021 6:51PM
GROSS

juanelric Feb 1, 2021 9:40PM
Gross
I'd like to see Tsunamino make Tadokoro-san fanart and also to see Tatsubon make WataMote fanart xD
last edited at Feb 1, 2021 9:41PM
HolyShiz Jun 2, 2021 12:13AM
GROSS-
Takasaki Reika Dec 26, 2021 6:39AM
where's my holy water?