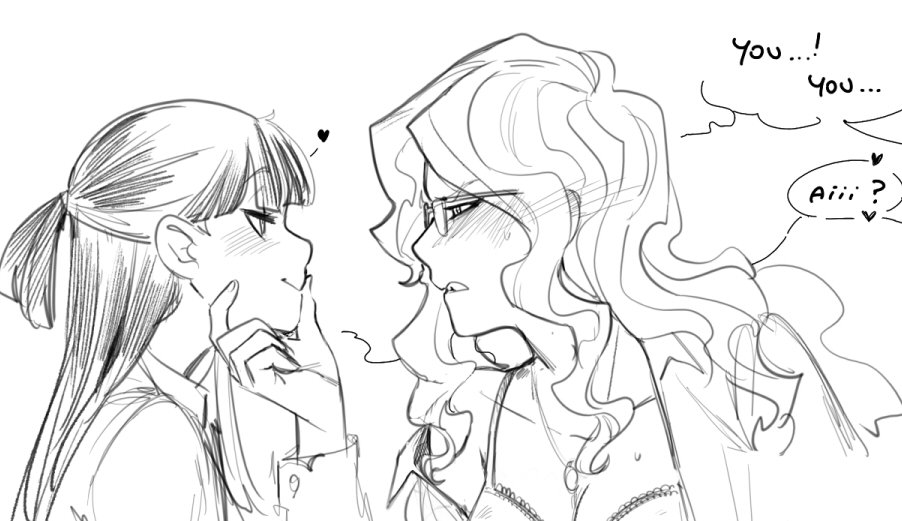 Midnightgunner Aug 26, 2018 9:55PM
Ah, I got it... I (English) = ai (Japanese) = Love.

SulliMike23 Aug 26, 2018 10:11PM
Hehehe, such intense love there Diana.

LII02 Aug 26, 2018 10:32PM
@midnightgunner thanks for that I just got it too

daydream_dog94 Aug 26, 2018 11:02PM
love akkos shit eating grin XD

GrimEater Aug 27, 2018 1:15AM
...kiss?
Mauser Aug 27, 2018 3:52AM
That smug.

auikimaya Aug 27, 2018 12:18PM
Watching Akko being smug is so refreshing
Ri-n Aug 27, 2018 3:29PM
Akko being smug. Nice lol.

Mimiyaah Aug 27, 2018 8:47PM
Damn akko~ love it

saizon Aug 28, 2018 11:56PM
If you look at Diana's shoulder, that's probably why Akko's so smug~
Smug Akko is Best Akko

TeruMoko Aug 29, 2018 7:33PM
I'm not 100% sure what happened but it looks like Smug Akko is in for some really intense payback!

BakaChiki Aug 29, 2018 8:15PM
Hehehe..can even be mad at her in the state u are in now can u ;33

YuzuYuri Nov 16, 2018 6:42AM
Looks age up

Firefly Fanatic Apr 23, 2019 1:29AM
Huehuehuehue
squishy-shi Apr 3, 2020 8:05PM
TICCY SPICCY