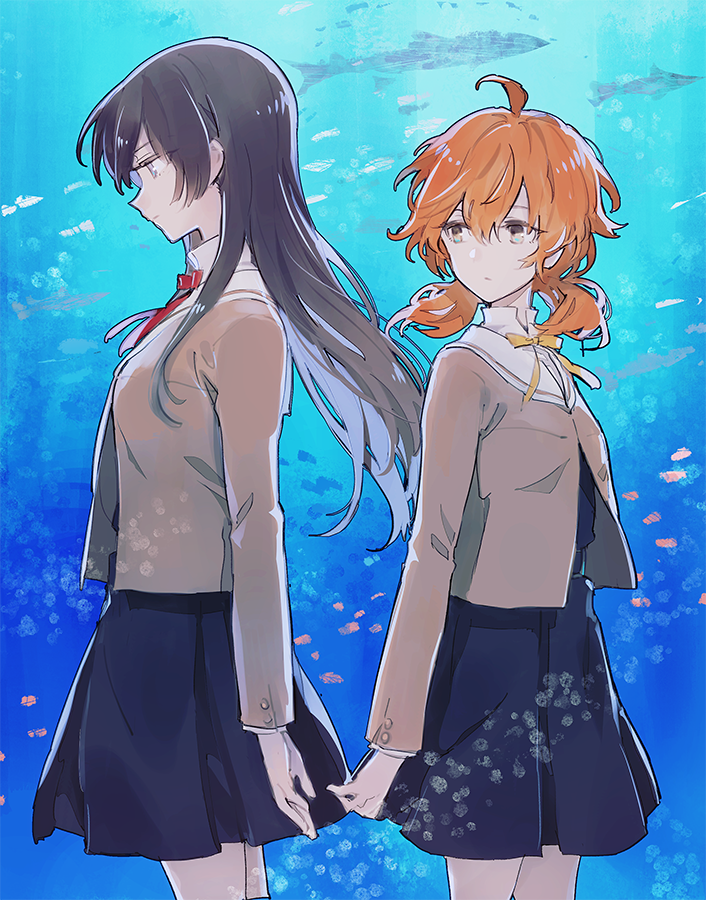 Mimiyaah Aug 10, 2018 11:59PM
I want them two to have an happy ending Y^Y i can only hope for now~ But this is beautiful~
last edited at Aug 10, 2018 11:59PM

skulll Aug 11, 2018 12:47AM
Minakata Sunao, the artist of Akuma no Riddle! Holy shit

TeruMoko Aug 11, 2018 12:47AM
Hand holding eminent!

LII02 Aug 11, 2018 6:45AM
Ooo~just grab the hand~

mint-leaf Aug 11, 2018 12:43PM
These two look amazing in Minakata Sunao's style!!
last edited at Aug 11, 2018 12:43PM

juanelric Aug 11, 2018 1:18PM
@skulll the author of Akuma no Riddle?! I somehow thought they just did fanart for it (that because I've already looked up who's the author lol). I'm a stoop.

kickap00 Aug 11, 2018 1:23PM
Nice style. Excited for the anime

BlueStallion44 Aug 11, 2018 2:12PM
I just realized the revue starlight characters look like these two as well

skulll Aug 11, 2018 8:23PM
@juanelric Minakata Sunao is the artist of the AnR manga. The writer is Kouga Yun.
TifalovesAerith Aug 12, 2018 1:08AM
The Love of my Life <3
last edited at Aug 12, 2018 1:08AM

Tommy_Otaku Aug 12, 2018 2:03AM
Minakata and YagaKimi ---> Awesome

roachjack7 Aug 12, 2018 2:40AM
Loving Minakata's art style. Yuu in particular, turned out amazing.
AntagonistChan Aug 12, 2018 4:05PM
It's not really that surprising that Minakata Sunao's done Yagakimi fanart. Nakatani Nio's done plenty of work for the "Small Riddle of Evil" series.
Risamari Aug 12, 2018 5:20PM
Amazing!!

juanelric Aug 14, 2018 10:59PM
@skulll oh, it's one of those mangas where one person writes the story and another one draws it, then.

BugDevil Aug 26, 2018 5:49AM
I'd sell my soul for more YagaKimi of any kind. Too bad there is nothing left to sell.

Firefly Fanatic Jun 20, 2019 9:19AM
That fluffy hair tho.... such fluff

Firefly Fanatic Jun 20, 2019 9:19AM
That fluffy hair tho.... such fluff

Firefly Fanatic Jun 20, 2019 9:19AM
That fluffy hair tho.... such fluff