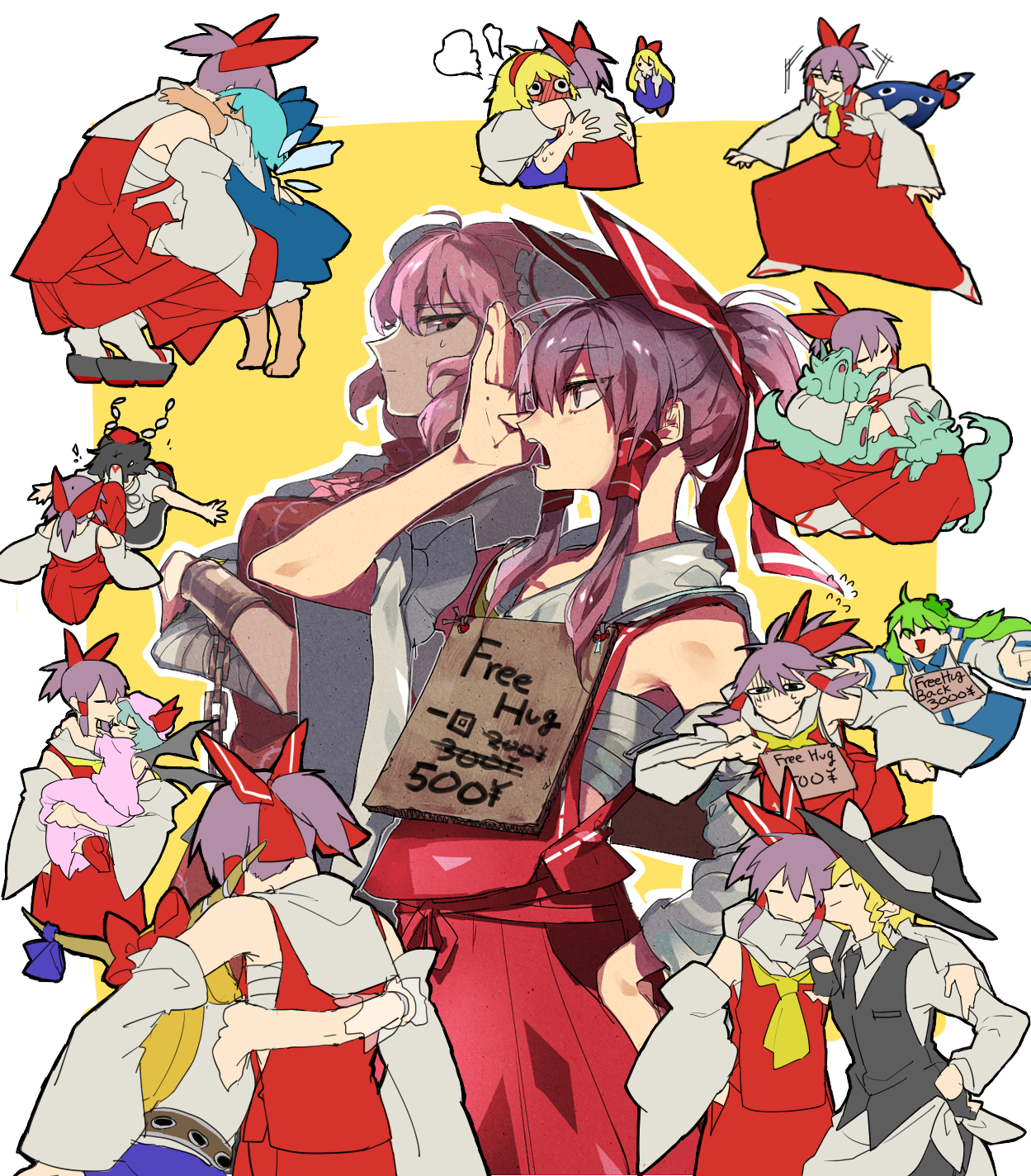 Mimiyaah Aug 10, 2018 10:49PM
Hahaha i love this..the priceless one is the one she's running away hahaha

FluffyKaoru Aug 10, 2018 11:14PM
Her and Remi look so cute

telamon Aug 11, 2018 2:00AM
I mean if it costs 500 yen it's not a free hug.

bitfarb Aug 11, 2018 9:18AM
Cirno hug is my favorite (tiptoes even with Reimu crouching!), with Alice hug coming in close second.
Hatshuharu Aug 11, 2018 11:31AM
oh wow, purple hair Reimu.

juanelric Aug 11, 2018 12:18PM
This is great. xD
And @Hatshuharu I didn't notice it was her until I saw the tags. lol
lord-of-roses Aug 11, 2018 3:36PM
Reimu's definition of free is rather curious...
Cirno and Aun's hug are adorable.
Also, come on, Kasen, you want one, too.

oguzhan96 Aug 11, 2018 6:59PM
Cirno and Suika are too adorable
Senjougahara_sama Aug 12, 2018 11:21AM
Reimu would be the only one to charge for a "free hug".
aranicar Aug 27, 2018 1:03AM
"Donate X00¥ and get a free hug" most likely.
Norainhere Jun 1, 2019 5:20AM
Reimu's pose for Yukari's hug (grope) reminds me of that one Spongebob caveman meme. I wonder if that was intentional? I'm kinda surprised a Japanese artist would know that meme.
Also, I definitely agree that this is all-around great. Especially Alice's reaction.
last edited at Jun 1, 2019 5:23AM