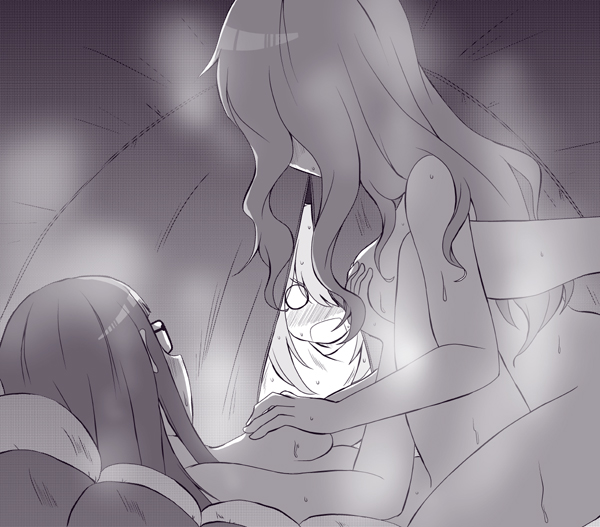 lord-of-roses May 9, 2018 10:20PM
The joke's too painfully obvious by this point, I'm not even gonna try to stop you.

Ropponmatsu May 9, 2018 10:36PM
@lord-of-roses

last edited at May 9, 2018 10:39PM

shadesan May 9, 2018 10:38PM
So do you guys know how to light a fire...oops...guess you do...

Throbelisk May 10, 2018 12:25AM
FUCKING IN TENTS
had to do it
last edited at May 10, 2018 12:26AM

Yasamura May 10, 2018 12:29AM
AAAH You beat me to it again
Takkyomi May 10, 2018 2:21AM
Praise our goddess of fucking in tents (Nadeshiko) for blessing us with more camping lewds.
Smerfy May 10, 2018 3:45AM
Hah... yuru... camp... ahaha.... ha...a... ◇_◇
Im woke
Symphogeah May 10, 2018 10:10PM
They looked like the ones in Sasameki Koto

Orochi5 May 14, 2018 8:01AM
Lol she didn't notice the tent was closed and there was some mysterious heat rising from it ╮( ̄_ ̄)╭

moar_pwease May 16, 2018 1:49PM
Whoa, it's foggy in here. How can glasses girl even see?

Bugpope May 24, 2018 6:48AM
It's not like she could see much anyway in a dark tent.

souleater May 24, 2018 7:44AM
nd thats wah happends in camp <3

daydream_dog94 Jun 24, 2018 12:15PM
@moar_pwease psht she dont needa see, looks like shes feelin her way around just fine ( ͡° ͜ʖ ͡°)

onyxpanda Jul 3, 2018 12:32PM
I like how they're both just holding each other's boobs.

Nguyễn Tấn Phúc May 21, 2019 4:24PM
LoL
wlftchtr82 Jun 22, 2022 10:36PM
[Narrator's voice] And that's why you should always knock before you enter a tent... I think.
last edited at Jun 22, 2022 10:36PM