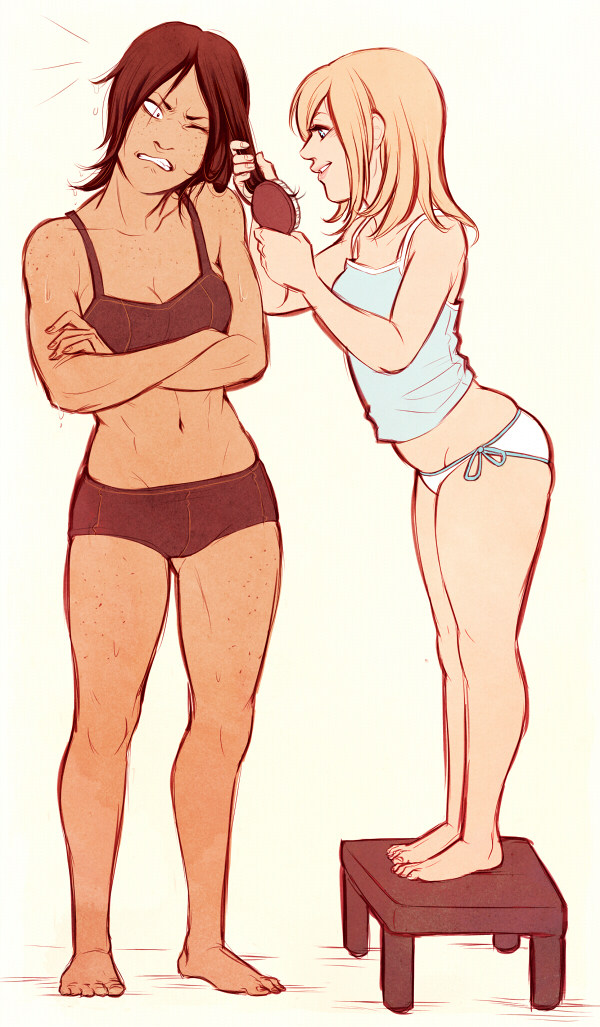 RoyceAxle Nov 29, 2017 8:17PM
Hair pulling without clothes? Now that's something.

Bugpope Nov 29, 2017 8:34PM
Size difference is moe as fuck.
themusicman500 Nov 30, 2017 12:05AM
Freckles are also moe af.

mint-leaf Nov 30, 2017 12:36AM
Aw,, missed these two
Aki_Chan Nov 30, 2017 1:26AM
Abs!! <3 O /// O

Ktulu007 Nov 30, 2017 8:28AM
You think they just keep a step ladder in their closet for any time Christa needs to do Ymir's hair or just feel tall?

Artemis Nov 30, 2017 11:24AM
This pair still makes me want to cry

BakaChiki Nov 30, 2017 5:58PM
THE STOOL!!! HAHA HIGHT DIFFIENCE IS AMAZING

Đéo care Dec 1, 2017 4:47AM
She has to stand on a stool to reach omg :)))

auikimaya Dec 1, 2017 9:05AM
HNNNNN-fucking-GGGGGGGG

Orochi5 Dec 1, 2017 10:01AM
Tthhhhhhhhhick!!!(≧ε≦o)

souleater Dec 1, 2017 8:09PM
ii want more of these 2

none Dec 25, 2017 2:27PM
Tasty thighs.