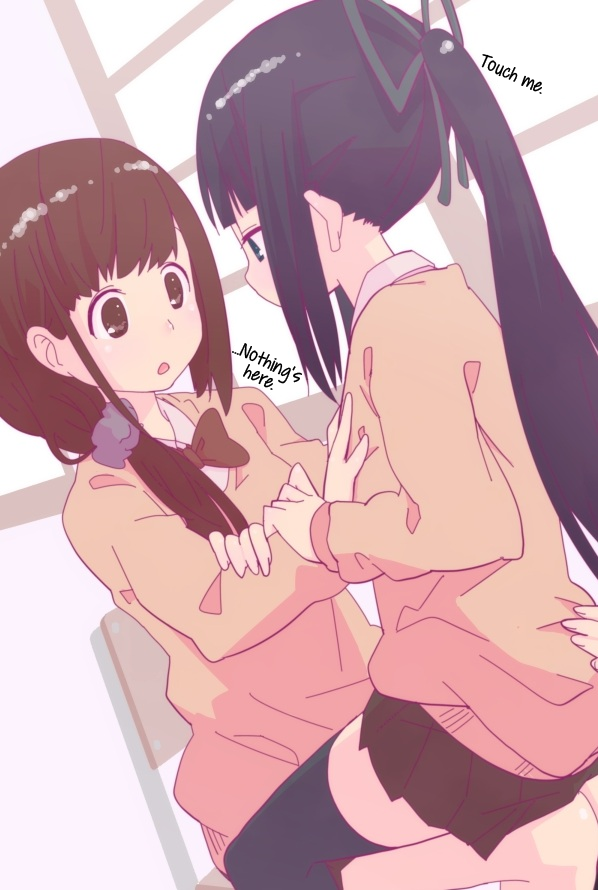 drpepperfan Sep 27, 2017 9:30PM
Translated by booru user ScreaminJamaicanYeti.

Pyoro Sep 27, 2017 9:39PM
"What to say when you have a death wish" - part 1?

mint-leaf Sep 27, 2017 10:08PM
Oh wow xD That's rough.

VivianGames Sep 27, 2017 10:12PM
she's saying the girl isn't wearing a bra

random Sep 27, 2017 11:10PM
That's one way to read it.
But not nearly as savage and funny.

RumpledForeSkiin Sep 27, 2017 11:12PM
Flat chests are justice.

Breakdanceanomicon Sep 27, 2017 11:36PM
Basically the humor of Colors if it had yuri.

souleater Sep 28, 2017 12:27AM
ahahah nothing there , <3

BakaChiki Sep 28, 2017 12:34AM
THATS MY LIFE RIGHT THERE

Mimiyaah Sep 28, 2017 12:49AM
One way to trigger someone (OvO)

auikimaya Sep 28, 2017 10:55AM
Top ten anime moments before catastrophe
[deleted] Sep 28, 2017 4:56PM
Hahaha HOW DARE YOOUUU?!?! XD
deltahalo241 Sep 28, 2017 5:31PM
@auikimaya
Top ten Anime Betrayals

AhaGAAAY Sep 28, 2017 5:39PM
Damn, we're going to need one admitance to the intensive care burn unit. XD

Orochi5 Sep 29, 2017 10:48AM
Lol she's one to talk (´ω`)

TeddyBear-San Sep 29, 2017 9:12PM
Let Aunt Teddy Bear-San give you advice 1. Don't ever say that to a girl because if you do you'll be wishing you were never born as she chases you to kill you; and 2. No matter what, you have to love her and that includes her flat chest. And this is coming from a woman who is single so you better not fuck up!!

Ninja assassin Oct 31, 2017 2:08AM
If nothing's there just say my heart or something to make the mood more exciting
Phil Dec 2, 2017 1:20PM
Who does the hand on the right girl's butt belong to?