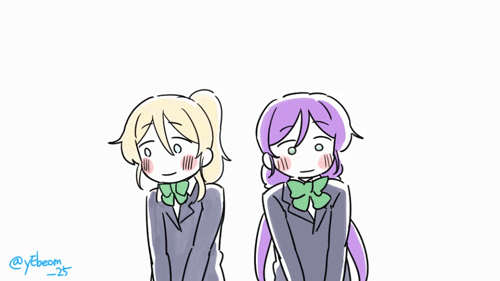 souleater Sep 7, 2017 11:37PM
oh my , ii love it <3 <3 <3
last edited at Sep 7, 2017 11:37PM

ocean555 Sep 7, 2017 11:51PM
daww~ they're so cute~
last edited at Sep 7, 2017 11:51PM

Homura E.N.D Sep 8, 2017 12:10AM
Many hearts are coming

Licksdat Sep 8, 2017 12:33AM
Just like that. These two don't follow after examples, they make examples to follow.

RoyceAxle Sep 8, 2017 1:59AM
they had sex all night
Hauteclere Sep 8, 2017 2:25AM
That escalated quickly.
DarkLordofYuri Sep 8, 2017 5:41AM
How adorable <3

NozoEli_trash Sep 8, 2017 6:20AM
My reason to live xD

Mimiyaah Sep 8, 2017 7:52AM
Omg... My lifee almost depleted!

Komohiro Sep 8, 2017 11:05AM
''They fucked''
anon1 Sep 8, 2017 12:40PM
what really gets me here is how awesome the animation is and that little smol tounge detail.

Inamikan Sep 8, 2017 9:25PM
Cutest~

auikimaya Sep 9, 2017 12:48AM
AAAAAAAAAAAAAAAAAAAAAAAHHHHHHHHHHHHHHHHHHHHHHHHHH
GrimEater Sep 9, 2017 3:09AM
cute

Shiiro Sep 9, 2017 6:54AM
whaaaaa :3

SphinxLord Sep 9, 2017 1:09PM
So this is how the parfait dates go ;3
LustGreed Sep 10, 2017 12:20AM
This ship could never go wrong

BakaChiki Sep 10, 2017 9:27AM
KKKYYYAAAAAAAAAAAAAAA!!!!!!!

FluffyKaoru Sep 10, 2017 8:27PM
That look in Eli's eye... SAUCY
[deleted] Sep 10, 2017 10:06PM
Was waiting for ma babies! Animation killed me >///<

Artemis Sep 11, 2017 8:27AM
This. This is love. This is life. *Squeals into my pillow
Nekofanatic Sep 21, 2017 1:59PM
"On September 21 2017, the Dynasty community member known as Nekofanatic left this mortal plane and ascended to Yuri heaven."

Vankomycin Sep 21, 2017 3:09PM
You'll be back.

Ninja assassin Nov 20, 2017 1:55AM
//0//0///
V

kotoumiftw Apr 29, 2018 6:37AM
heart attack

thorne Jun 5, 2018 1:20PM
bless

BigUselessLesbianBean May 8, 2019 2:58AM
LOVE LOVE LOVE LOVE LOVE LOVE LOVE LOVE LOVE LOVE LOVE LOVE LOVE THIS

WolfCatFox Nov 1, 2020 3:02PM
they fall to the floor
'Kay bye. See you when I look as a NSFW pic.