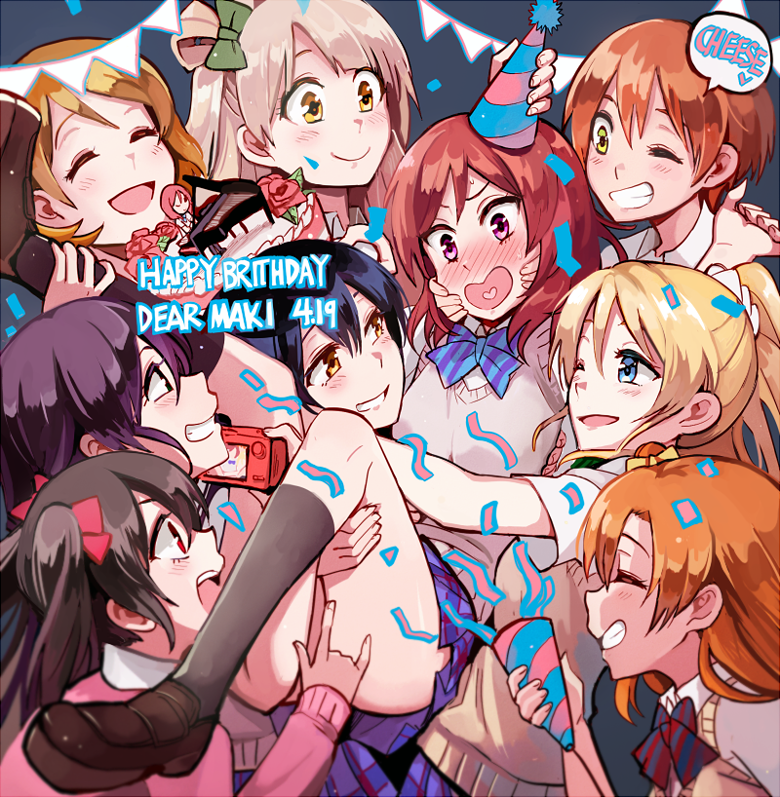 Mimiyaah Apr 19, 2017 10:07PM
I'm not sure if i should trust Nozomi's eyes there.. ‎( ͡° ͜ʖ ͡°) And she's even responsible for the camera....Σ(・□・ ) love the cake though~
last edited at Apr 19, 2017 10:08PM
bonkball Apr 19, 2017 10:53PM
The most canon of LL ships
mint-leaf Apr 20, 2017 12:40AM
everybody X Maki is good.

Licksdat Apr 20, 2017 1:55AM
Nico's hand.

AnnaMaki219 Apr 20, 2017 2:22AM
Kuma x (Everyone x Maki tag)

YuzuYuri Apr 20, 2017 2:36AM
Nico's shameless fngering in public lol
astralboy Apr 20, 2017 2:48AM
awww!
Homura E.N.D Apr 20, 2017 8:21AM
Umi wants the boobs

lucario14 Apr 20, 2017 10:38AM
Aww SG trio so close <3. Also I know Nico is doing her trademark hand pose but it's the perfect gesture and in the position to look like she's doing something lewd to Maki.

gweanakjakarta Apr 20, 2017 11:58AM
Wait, 19 April? she got same birthday as You?
PewLoveTheYuri Apr 20, 2017 12:39PM
Damn Nico everyone is touching your Waifu

AkiraH Apr 20, 2017 4:42PM
@gweanakjakarta You's birthday is actually April 17

yuikumari Apr 20, 2017 7:45PM
it looks lke nico's finger are going inside maki's "privet"
Nithet Apr 20, 2017 9:38PM
Omg Nico... Those hands ( ͡° ͜ʖ ͡°)
Clover0Project Apr 21, 2017 7:10AM
Yess, more everyone/Maki~
(dem Nico's fingers so ambiguous)

SphinxLord Apr 21, 2017 3:41PM
I approve of this

TrollzOfLol Apr 21, 2017 8:56PM
Nico is just... Covering Maki's panties xD

Valanz Apr 21, 2017 10:52PM
I like the implicated couples umiXmaki EliXmaki :3

Nezchan Apr 21, 2017 11:00PM
Don't forget RinMaki. Who'd got their hands on her face, huh?

Nezchan Apr 24, 2017 7:26PM
UmiMaki is a pretty easy ship to justify. Composer/Songwriter means working on the same wavelength and spending a lot of time together. The downside is they don't contrast that much. Both shy, both intellectual, both very conscious of their families, etc.

Nezchan Apr 24, 2017 8:16PM
Well yeah, execution matters a lot.
Outer Apr 29, 2017 10:03PM
Umi wants the tiddie
But Nico wants the puss puss
YayaSamuko Dec 24, 2017 10:25AM
Oh my... That Nico...