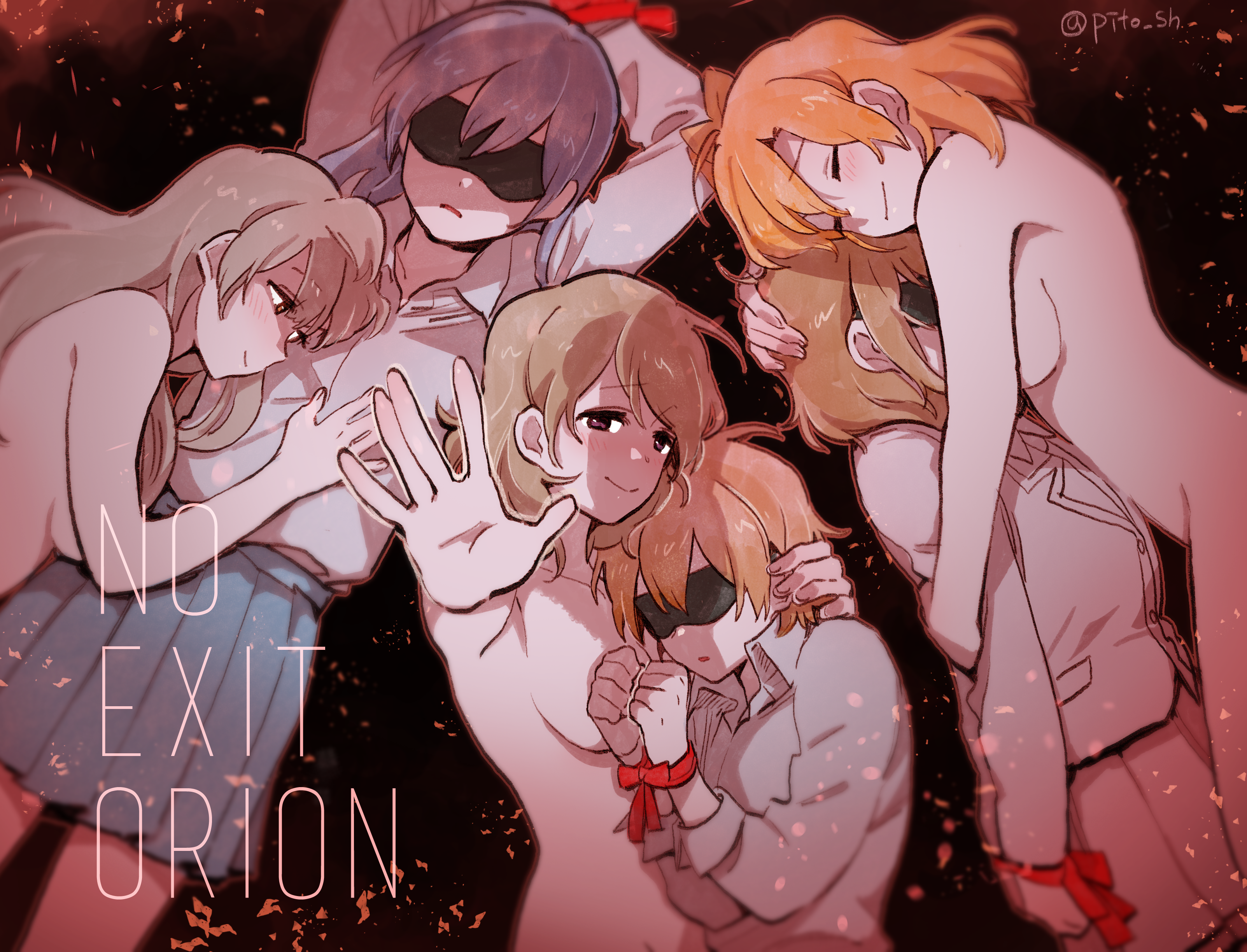 Joebtuba Mar 6, 2017 11:38PM
Thematic

Victim Mar 6, 2017 11:42PM
I've got a lot of questions. Is this an artsy album cover? Is this an orgy? Is today some sort of kinky holiday???
Saeyoung Choi Mar 6, 2017 11:50PM
bdsm?

mint-leaf Mar 7, 2017 12:14AM
Nice

TrollzOfLol Mar 7, 2017 12:18AM
No exit orion is a yandere song in my opinion. Also, Tsubasa has Honoka's boobies in her face
last edited at Mar 7, 2017 12:19AM

AnnaMaki219 Mar 7, 2017 12:25AM
there's something about the doms being totally nekkid... whew

Kayo-chin Mar 7, 2017 1:22AM
Tsubasa is living the dream.

HopeFromYuri Mar 7, 2017 1:41AM
H-hanayo? That's something different. But hey, I would swap places with Honoka

Raxus Mar 7, 2017 2:29AM
i really don't like the manwha "my joy" of this author :'v i think the author is sadistic xD
DarkLordofYuri Mar 7, 2017 3:08AM
Tsubasa you lucky girl!
Symphogeah Mar 7, 2017 3:14AM
Pito why are your works always so dark lmao xD

Frost777 Mar 7, 2017 4:59AM
I always feel like there's some kind undertone whenever I heard No Exit Orion. This pic sums up everything.
Creating an account just so i can say about this picture do not regret it.
More Pito works.
last edited at Mar 7, 2017 5:10AM
Aki_Chan Mar 7, 2017 5:46AM
Uuuuh I always knew Hanayo has this dark side all along...

NaitoZekkyou Mar 7, 2017 6:48AM
hanayo's hand.. why

Itzameapotterhead Mar 7, 2017 10:04AM
was wondering if this image is on here
Gray Shadow Mar 7, 2017 10:57AM
Just curious, are the other images in the set going to be uploaded? They're all very...interesting.

Mimiyaah Mar 7, 2017 11:15AM
Omg... What is this!! (⁄ ⁄•⁄ω⁄•⁄ ⁄)

Homura E.N.D Mar 7, 2017 12:32PM
Looks like I need to listen No Exit Orion

whiterose- Mar 7, 2017 2:08PM
kotori always give me the yandere vibes (especially in fanarts) so seeing this doesn't really surprise me...
lucky tsubasa tho. getting buried in honk's honks.
ZuljinRaynor Mar 7, 2017 2:23PM
Are there any doujins of Hanayo dominating Rin?

SphinxLord Mar 7, 2017 4:27PM
I came here... wait that can sound wrong given the situation.
Gawd this is hhhawwtt. I kinda like the idea of a dom Hanayo and Rin being like "I also like this side of Kayo-chin"
I approve of alllll of this... so hawt
anon1 Mar 7, 2017 7:47PM
Hanayo in charge of all Printemps sad and dark songs, The bird has captured the sea, and I wish I was Tsubasa kek.
There are still two more pieces to complete each sub-units Yandere tier songs.
[deleted] Mar 7, 2017 8:26PM
YESSSHH I love the pairings! NozoEli and NicoMaki arr in my head! >~<

YuzuYuri Mar 7, 2017 10:48PM
omg.. you guys are right. I just read the lyrics of NO EXIT ORION... it is kinda possessive and a bit dark... wow...
this is like cutie panther but darker, much darker

RoyceAxle Mar 7, 2017 11:12PM
BDSM and love live? Is it my birthday?

Sakura Cartelet Mar 7, 2017 11:53PM
@Aki_chan Well they do say to beware of the nice ones. And Hanayo is really friendly...
Oneechan Mar 8, 2017 6:17AM
O wow! This is pretty neat

yuikumari Mar 8, 2017 5:11PM
ii love this art work
Ratte Mar 8, 2017 11:55PM
PITO THE MVP, GIVE THIS MAN A MEDAL

Bojack727 Mar 9, 2017 2:06PM
Aw man... Pito finally draws Tsubasa, but it's impossible to appreciate her angular eyes and the combo of her high-cut bangs and forehead.
aki_suzu Mar 9, 2017 2:51PM
Honestly... it's not like they want any exit actually
aryahime Mar 9, 2017 7:33PM
OOH, the infamous Printemps yandere song. I get it!
last edited at Mar 9, 2017 7:33PM

Vankomycin Mar 10, 2017 10:52AM
@AnnaMaki219
Yeah, that's surprisingly hot. I'm more used to the other way around.

IskuKun Mar 13, 2017 6:12PM
( ͡° ͜ʖ ͡°).......oh my

Zuneko May 17, 2017 4:51AM
This must be Feel Good Inc...

Vankomycin May 20, 2017 11:56PM
Love forever
Love is free
Let's turn forever
You and me

Vankomycin Jun 18, 2017 12:52PM
In retrospect, and finally having gotten around to watching the series, I'm having a hard time picturing Hanayo as a Domme.
Umi is sub as shit, though.

Nezchan Jun 18, 2017 1:31PM
To be fair, nobody tops Kotori.

DankestMemeGenerator9000 Dec 26, 2017 7:39PM
Jesus Christ.

almighty Mar 24, 2018 12:23PM
hanayo dom is amazing dom <3

dhontie Apr 13, 2018 12:18PM
Harasho
b33zle Sep 12, 2018 10:44AM
im curious seein hanayo dom, is there any doujin that hanayo is a dom
AnimeJunkie Apr 20, 2019 4:41AM
tsubasa you lucky bitch

Xelheim Jul 16, 2019 6:23AM
The balance of the one not being tied is the one without and the one that is ties wearing some is awesome

ANobodyPerson Jul 30, 2019 6:39PM
Everyone wants to be in TsubaHono's place while I would want Umi's place, you lay down and sleep. That's it, although I fall asleep in Tsubasa's position. Whatever!