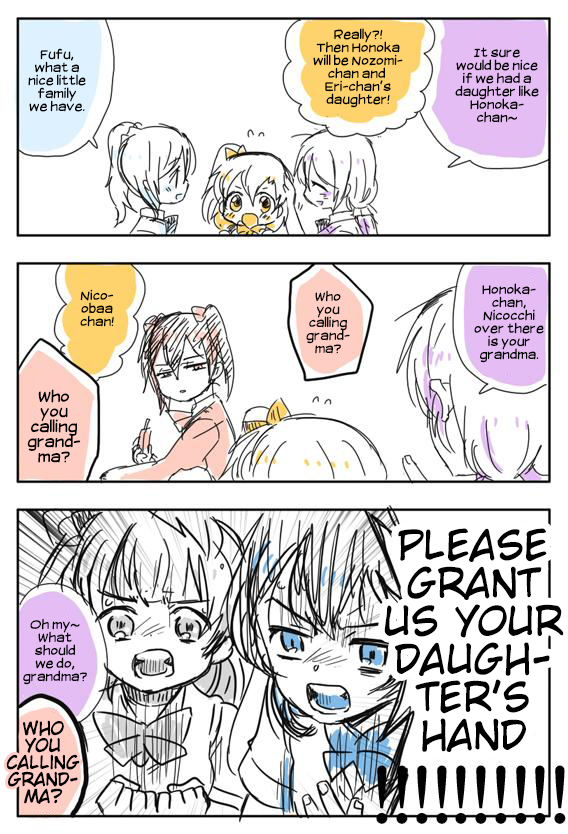 anotherdayintheshade Nov 7, 2016 10:49PM
Poor Hanayo and Rin being left out. But still so cute!

mint-leaf Nov 7, 2016 11:28PM
AAHAHA
Beautiful. Really fond of this artist's work, and I really like "family" Muse situations like this

AnnaMaki219 Nov 8, 2016 12:32AM
so is Nico really the oldest or

ari-chan Nov 8, 2016 1:31AM
Nozomi 6/9 > Nico 7/22 > Eli 10/21

YuzuYuri Nov 8, 2016 2:03AM
I love this artist so much, they make awesome Nico

AshuraX Nov 8, 2016 10:41AM
WHO YOU CALLING GRANDMA?
ayano-chan Nov 8, 2016 2:59PM
I thought Kotori and Umi would be jealous over how they are not Honk's parents. But this also works out pretty well :D

yuikumari Nov 8, 2016 3:12PM
hahahahahhahahahahahah <3 <3 <3 nico's a grandma , so wah does that make maki since her nd nico are a pair .. the granpa/gramma
Itzameapotterhead Nov 9, 2016 4:24AM
Nozomi 6/9
OF COURSE NOZOMI JUST HAD TO HAVE 69 AS HER BIRTHDAY
Itzameapotterhead Nov 9, 2016 4:26AM
I remebered something like this but with Nico as the child

PsychoNeko Nov 10, 2016 10:46AM
I laughed so hard it made me stop to breath. This art is dangerous.
Polycell Nov 10, 2016 8:37PM
Nico's got the crotchety down pat, so of course she's grandma.

BakaChiki Oct 17, 2017 4:31PM
WHO YOU CALLING GRANDMA!?