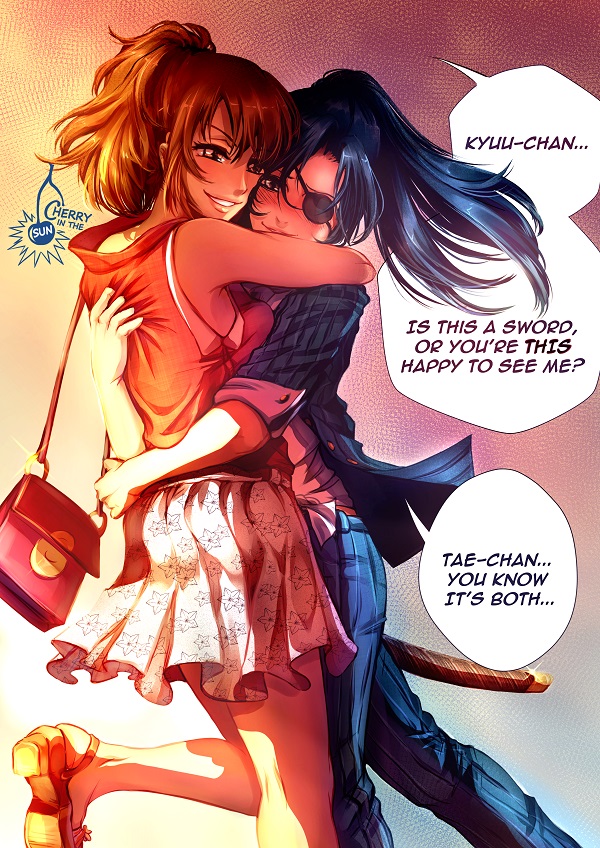 Homura E.N.D Jul 27, 2016 1:01AM
Lol, this two are so pervert...
But I'm glad that we finally see some OtaexKyuubei!

Jigglyfuck Jul 27, 2016 3:27AM
For a moment I thought "FUTA" then I saw the sword

yuikumari Jul 27, 2016 2:32PM
hahaha both <3 <3 ..

Urashi C. Pin Jul 27, 2016 4:47PM
JYUUBEI JA NAI KYUUBEI DA!!

adyatma16 Jul 27, 2016 9:34PM
someone please call mansengumi! lol

palakangorange Aug 1, 2016 3:35AM
finally! but Otae's boobs though

juanelric Mar 19, 2018 11:39AM
I don't ship these two (I love GinTae too much), but I really love their friendship and how Kyubei's lesbian crush on Tae isn't treated as a joke or fanservice, especially in a gag series like Gintama. It's actually trated better than Isami x Tae. lol
Talking about friendships I love in Gintama, why is there no Kagura x Soyo in the site? I don't ship them either but their friendship is friggin' cute. Guess I'll suggest something to be uploaded to the site.
last edited at Mar 19, 2018 11:42AM
Lastpersimmondrops Aug 20, 2021 8:48AM
Season 1 opening song Prey by Tommy Heavenly6 is one of the best anime openings ever. Kawase Tomoko is so gorgeous so there is that too.
last edited at Aug 24, 2021 7:12PM