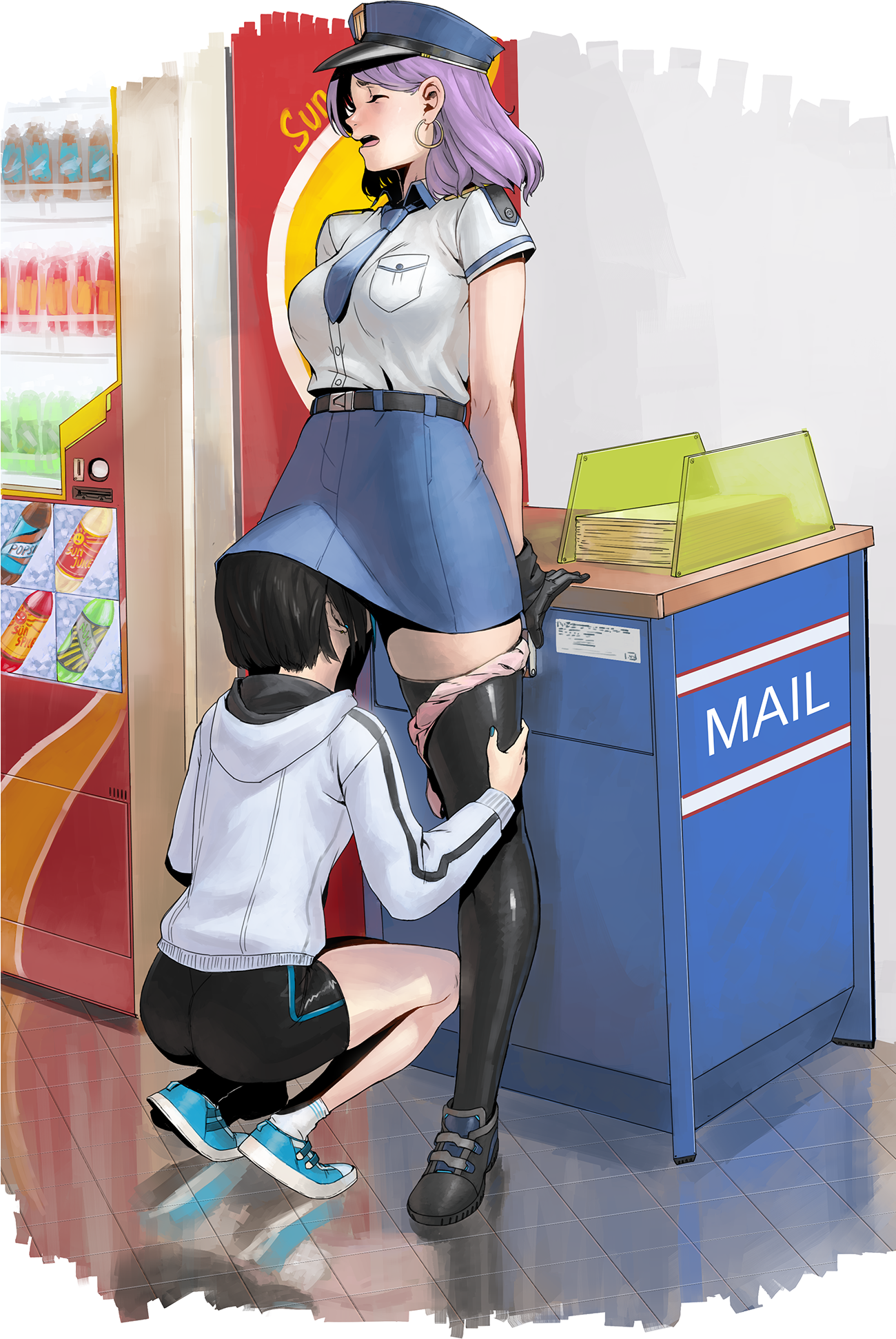 [deleted] Jun 5, 2016 9:23PM
In public....?!?!? O///O

CaliforniaLove13 Jun 5, 2016 9:44PM
In public so bold ain't ms. officer

Lyca Jun 5, 2016 9:55PM
Is she an officer or a mail lady tho?

yuikumari Jun 5, 2016 10:03PM
officer off of duty <3 <3 <3

Casey 1988 Jun 5, 2016 10:15PM
I wonder if the girl is trying to avoid the the law?

Licksdat Jun 5, 2016 11:16PM
Let's have a drink. Which one do you want? I'm buying. Ah, the convenience of a vending machine.

Homura E.N.D Jun 5, 2016 11:21PM
Öhmm...O.o
elevown Jun 5, 2016 11:33PM
She looks kinda like a police woman - but the logo on the hat looks like an M so maybe a mail lady?

Urashi C. Pin Jun 5, 2016 11:49PM
oh my buddah

CaliforniaLove13 Jun 6, 2016 1:13AM
If she is a mail lady deliver great package ;)

Jathea Jun 6, 2016 1:29AM
mail lady lovin it!
Heart-Of-The-Earth Jun 6, 2016 1:48AM
Whether they be mail ladies or police women, always make sure you show public servants the gratitude they deserve.

Jigglyfuck Jun 6, 2016 6:20AM
"Gratitude" .. ( ͡° ͜ʖ ͡°)

HopeFromYuri Jun 6, 2016 6:22AM
Hmmmnfgg

Khazumin Jun 6, 2016 9:38AM
I mean, she's probably the mail lady, right? Seeing how there's this huge box with the word... I dunno... MAIL? She'll make a smooth delivery, that's for sure
last edited at Jun 6, 2016 9:39AM

Lyca Jun 6, 2016 10:40AM
I would show her all my grattitude.

Lyca Jun 6, 2016 10:42AM
@elevown i was thinking mail lady more so coz of the lack of badge, but i didnt even notice the hat. Good job.

Orochi5 Jun 6, 2016 12:17PM
Yo I think she's a pilot :/

Lyca Jun 6, 2016 1:26PM
Oh maybe

8man Jun 6, 2016 6:36PM
this is hot

Miharu Jun 6, 2016 11:26PM
So indecent! So inappriopriate!
I like it.

PaleRider Jun 7, 2016 12:11AM
That Soda machine thou..

Vyslanec Jun 7, 2016 11:13PM
I would like to think she is a police lady. That way, I can say "Fuck the Police!"
llenovo Jun 8, 2016 5:00PM
That's one way to avoid a ticket.

ChiriMix Jun 9, 2016 1:59AM
Is there away to like or save this. I'd like to hoard this image haha
mangalover8295 Jun 14, 2016 11:23PM
@ChiriMix Right click and select "save image" then just save it.
YayaSamuko Aug 30, 2018 4:46PM
This is why I have trusting issues toward salarymen.
cough cough
Anyway, please just pretend I'm not watching and continue your heavenly moment of glory.

Beefaroni Jun 20, 2019 8:47AM
Yo I think she's a pilot :/
Is there any pilot yuri? Cause if so, I'd love to read it

juanelric Jun 20, 2019 11:17AM
oh wow