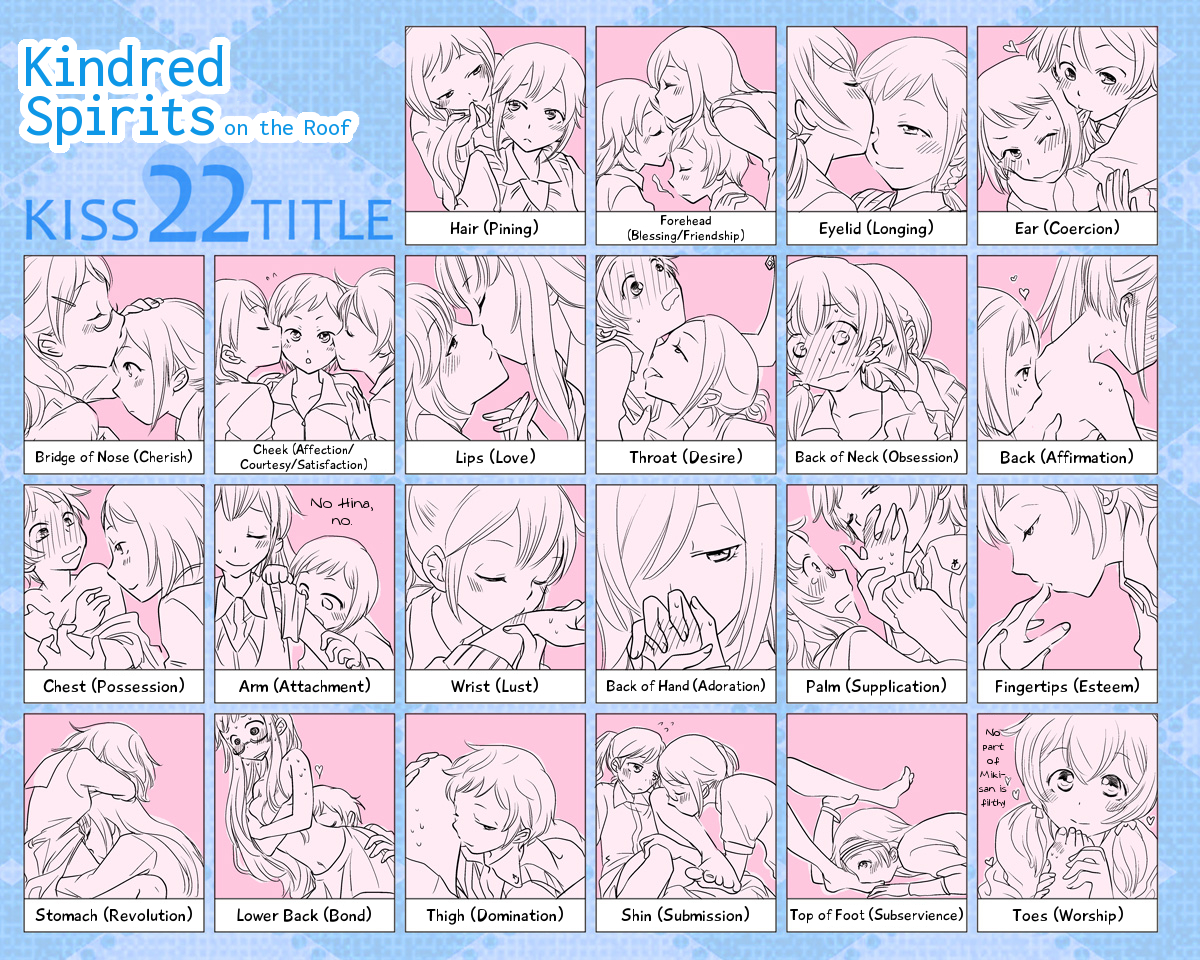 drpepperfan Apr 15, 2016 1:58AM
ill probly tag more if we get any other pics with other pairings
need more youka x aki aka best pairing

yuri goggles Apr 15, 2016 3:35AM
i love these kissing charts

yuikumari Apr 15, 2016 3:36AM
.. <3 <3 <3
HopeFromYuri Apr 15, 2016 6:12AM
YES i love kisses
Yash
I aprove

adyatma16 Apr 15, 2016 9:37AM
youka x aki a bit kinky here >_<, ano getting embrassed though XD

Homura E.N.D Apr 15, 2016 1:22PM
I wanna play it <3
Fiwane Apr 15, 2016 1:30PM
Je meurs ^

Kiena Apr 15, 2016 2:50PM
Is it Nena x Ano in Palm, Lower Back and maybe in Thigh, too?
drpepperfan Apr 15, 2016 4:01PM
@Kiena Absolutely.

Josei Yuri Apr 15, 2016 6:26PM
Is Fingertips Nena X Ano too? Would make the trip from Palm to Thigh practically a 4-koma.

Zuneko Apr 15, 2016 11:26PM
There just needs to be more Kindred Spirits On The Roof art in general

Joebtuba Apr 16, 2016 2:31AM
Everybody is in this picture. Lord knows I've had to tag it myself before...

WhiteWolf Apr 16, 2016 10:37AM
' ' I don't like it... I LOVE it .

impi Apr 19, 2016 5:22PM
the throat one oh ho ho~

spiels Apr 20, 2016 8:18AM
I think it's Miki x Seina for the eyelid frame. 16 hours into the game and I'm still not done. Loving it!!

YurixLily May 2, 2016 7:56AM
Are the Sempais in the one in Chest(possession)?
last edited at Jul 20, 2016 11:50PM

knite Mar 20, 2017 11:22PM
This reminds me of that kaguyaxmokou doujin with the hair kissing.