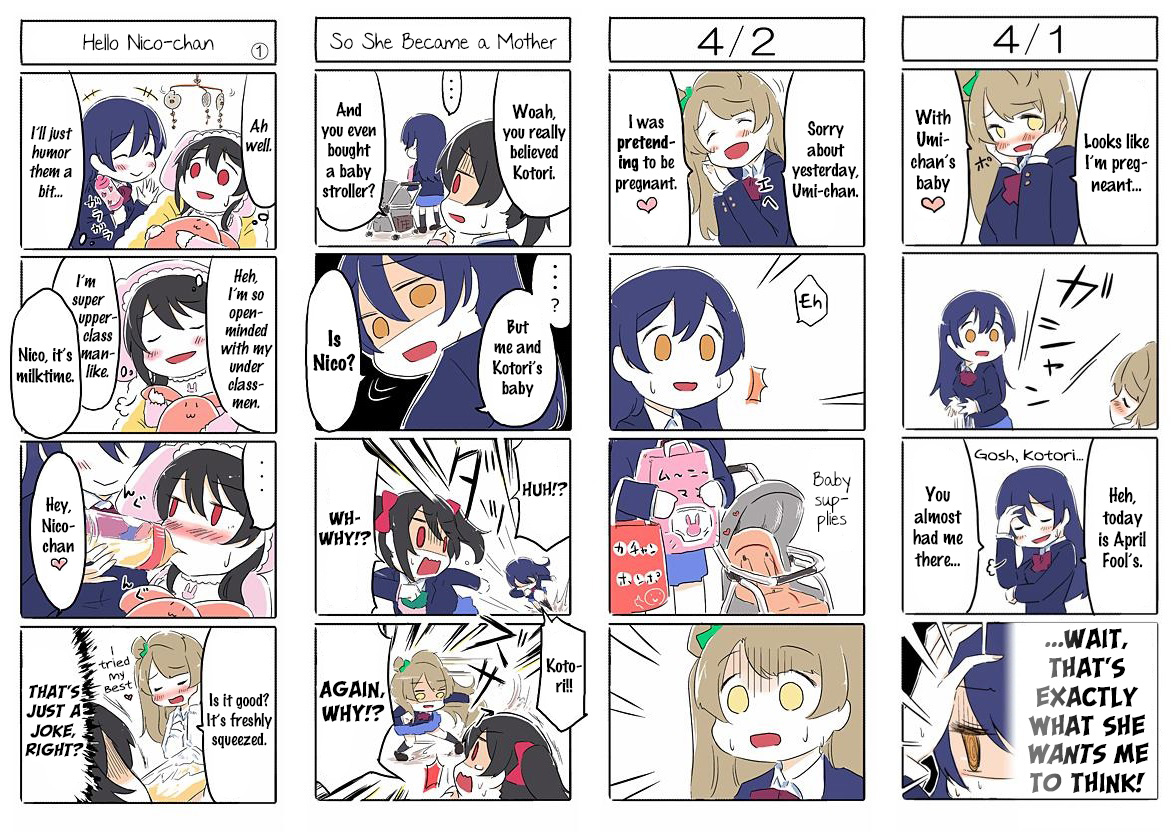 kotoRin Jun 29, 2015 12:23AM
So cute!! Ship KotoUmi so hard ♡

Gelert_Xross Jun 29, 2015 1:33AM
Aw, the second strip made my heart hurt a bit.
elevown Jun 29, 2015 5:39AM
I agree the second strip is too sad - they need a real baby not nico-chan lol.
kagakujinjya Jun 29, 2015 5:58AM
A new fetish has born.

Commandershepard13 Jun 29, 2015 6:42AM
Trust me, none of the fetishes seen here are new.

Nosebleed Jun 29, 2015 8:37AM
This is glorious.

ChocolateCakeLover Jun 29, 2015 8:58AM
I've a policy of never drinking milk unless I've seen it poured from a blue top, but now I feel that serves another purpose.
last edited at Jun 29, 2015 8:58AM

Neko_BB Jun 29, 2015 2:27PM
Hahahaha... It's really fun!!! Auch... my ribs...

AkiraH Jun 29, 2015 3:14PM
AHAHA this is hilarious!
And now that I think about it, so KotoUmi's love child is Nico, NozoEri's child is Maki, both of them have play dates together... omg that's too cute.

biteme Jun 29, 2015 3:40PM
LOL! Poor Nico haha

Chikaon Jun 29, 2015 6:20PM
Ahahah oh Nico, such a good upperclassman.
Predaking Jun 29, 2015 8:12PM
lol poor Nico.
That last panel killed me!

sisya Jun 30, 2015 12:20PM
Wowww, that's the best!

9Hampnie8 Jul 1, 2015 12:34PM
Need more KotoUmi !!! >.<
And poor Nico- chan

YuzuYuri Jul 3, 2015 12:20AM
Laughed so hard at "Author: ???" lol. This needs a continuation tho. Where is it....?

drpepperfan Jul 4, 2015 1:21AM
Good find o3o Added.

YuzuYuri Jul 4, 2015 10:43AM
Thanks. Now I don't have to laugh everytime I see it.

Maifate Dec 10, 2018 1:01AM
lol