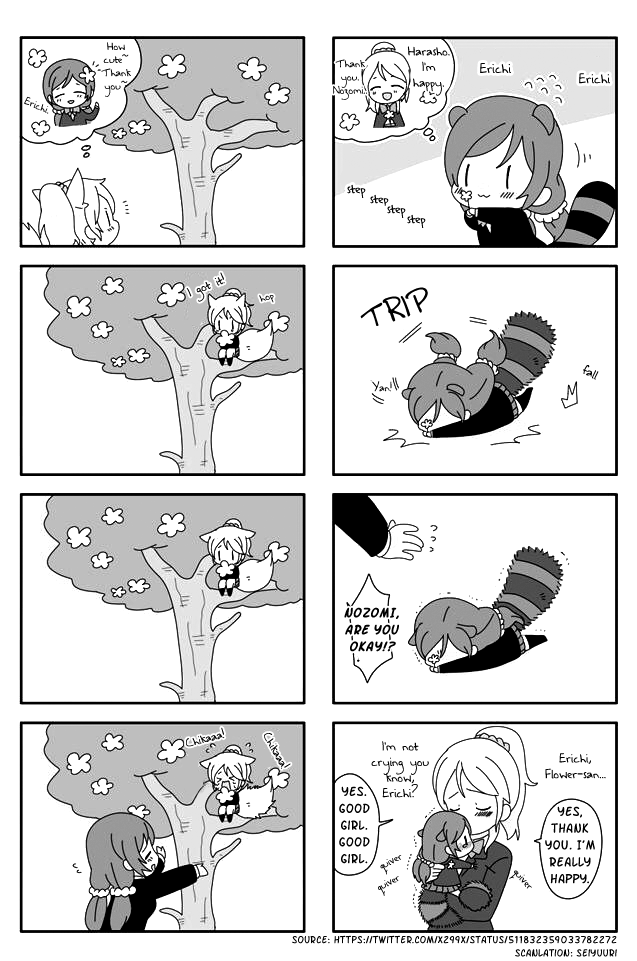 Aeris Feb 26, 2015 12:56AM
Hng

YuriSenpai Feb 26, 2015 4:38AM
I love when they're drawn like this. I wonder what the origin is?
Darklady_Dusk Feb 26, 2015 5:31PM
Non-chaaaan Q__Q so cute~

Cristinasdf Feb 28, 2015 9:55AM
I can't stop laughing, Eli didn't think how to go down the tree lol

mochimochi Feb 28, 2015 5:15PM
precious stupid bebes <3 bless u Neko. bless u.

YuriSenpai Mar 11, 2015 11:29PM
Omfg the tail bristle on Nozomi tho!!!!!!!
Nontan tripped and her tail went poof
last edited at Mar 11, 2015 11:29PM

Hazuki Mar 14, 2015 10:21AM
@YuriSenpai the origin of Nontanu and Kitsunechika is from School Idol Festival if I'm not mistaken. They get animal costumes and as you can see Eli is a fox and Nozomi is a tanuki.

Neko_BB Jun 28, 2015 2:10PM
It's very cute...

Yuribuster Dec 16, 2015 7:28AM
Nosebleed
written in blood
Forgive me

karomuwi Nov 12, 2016 4:43AM
I just wish they'd make more of these. It's so cute~ Perfect for lifting up your spirits after a grueling and tiring day.

ANobodyPerson Jul 21, 2019 8:10PM
Their poofed up tail though..

juanelric Jul 21, 2019 11:55PM
Poor thingies