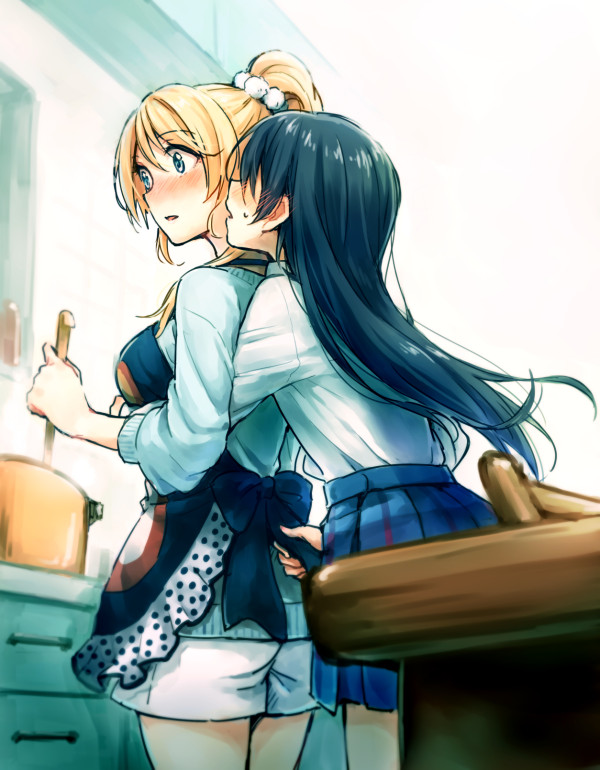 biteme Dec 10, 2014 12:31PM
OMG, OMG! fucking hot!

YuzuYuri Dec 10, 2014 5:53PM
YES. HOT...POT...

samkwon Apr 14, 2015 12:14PM
Umi: I want to eat you, Eri-chan

Natsuki Kuga Oct 23, 2015 3:06PM
Oh my kami...my heart STOPPED. Eri's blush and Agressor Umi? Please please please please please~

Kid_face1028 Jan 3, 2016 12:15AM
I actually want a continuation

miharusshi Feb 27, 2016 2:24PM
Umi ~daitan~!

hot_fudge May 1, 2016 6:25AM
Hot!
aki_suzu Jun 24, 2016 10:08PM
Eri: since you're stopping by, I made your favorite ravioli
Umi: can... can I just have you right now?
#kyaa

AnimeSavesMe Sep 19, 2017 11:15AM
Umi: Let's do some kinky sh*t tonight... XD

yuri n wine Oct 19, 2018 10:56AM
Umi: I'm doing laundry, take off your stinky clothes Eli
Eli: Ah! The borscht is gonna burn
Umi: I'd rather eat that ponchik shaped booty of yours

daydream_dog94 Oct 1, 2019 7:48AM
can we get a doujin based on this image plz