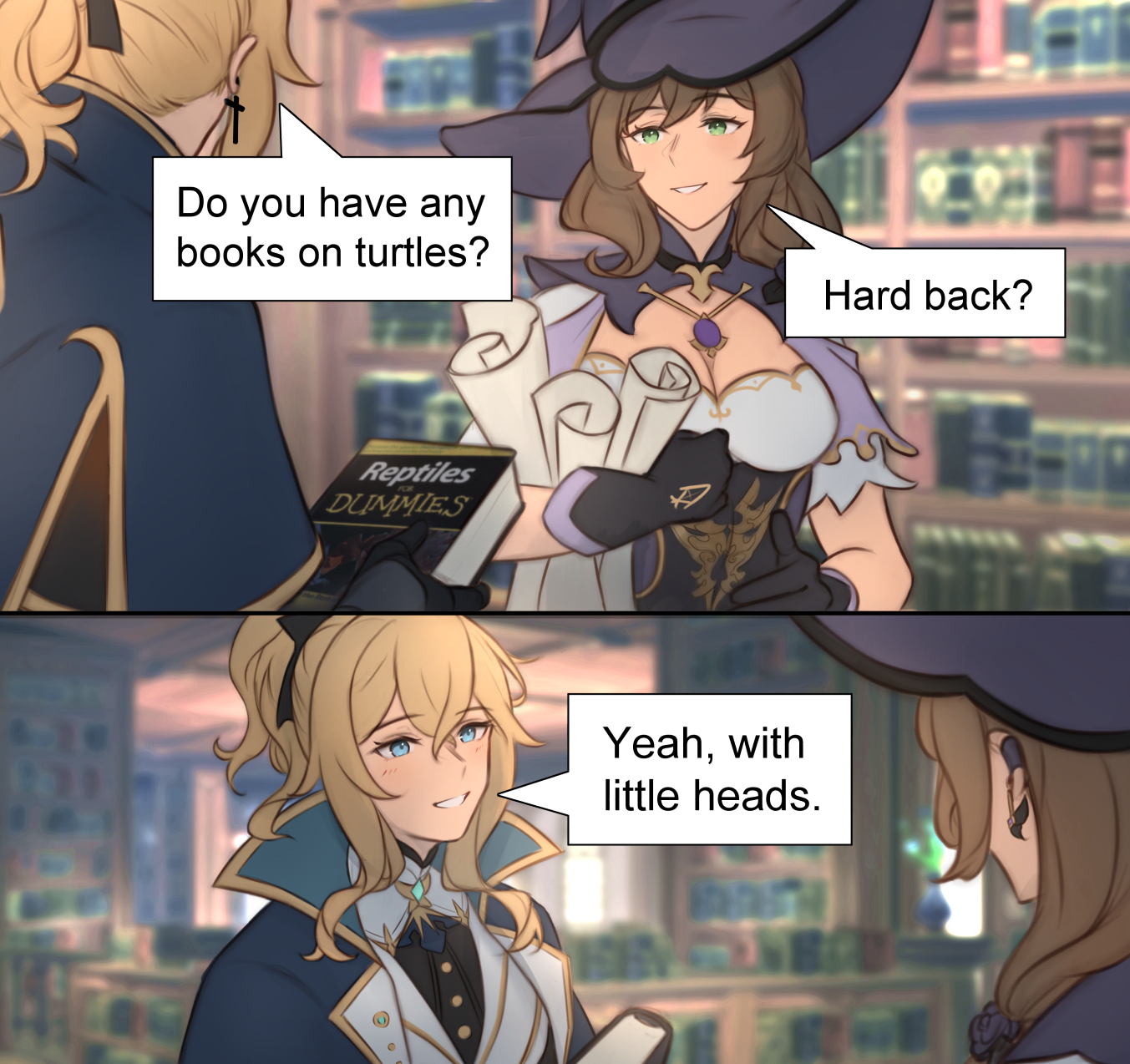 IresaFan Jul 24, 2023 11:32PM
I get it

eggrollwithbeef Jul 25, 2023 1:35AM
i dont get it
Givemeanaccount Jul 25, 2023 1:45AM
I think I get it
Perlen297 Jul 25, 2023 2:21AM
I'm not sure if I get it

Random_Bird Jul 25, 2023 5:53AM
Jean makes Dad jokes now xD

Rye Jul 25, 2023 7:35AM
Joek explained: Hard back as in hard cover books = hard back as in turtles have hard backs.
elevown Jul 25, 2023 2:39PM
lol - joke or airhead?
Swag Wagon Jul 25, 2023 3:25PM
I'm about to get it

Sufficient Agony Jul 25, 2023 4:24PM
Another one to add to the morosexual listing...

eromancer Jul 25, 2023 5:14PM
Buying a "For Dummies" book in hardback. How appropriate.

Missigno Jul 25, 2023 8:19PM
God damn it Jean it's been the second time already with the a for dummies book!

DR2 Hajime Hinata Jul 26, 2023 10:04AM
I've always loved this fanart lol
BakemonoJoker Jul 27, 2023 6:19AM
wasn't this also a d joke tho ? lmao

CindertailtheKistune Jul 27, 2023 11:41AM
Idiots <3

juanelric Jul 27, 2023 1:35PM
Parody of what?

scalio Jul 28, 2023 11:23AM
Jean channeling Leslie Nielsen's humor.

Alphabus Jul 28, 2023 9:27PM
Hahahahahahahahahahahahahahahahahahahah great joke.