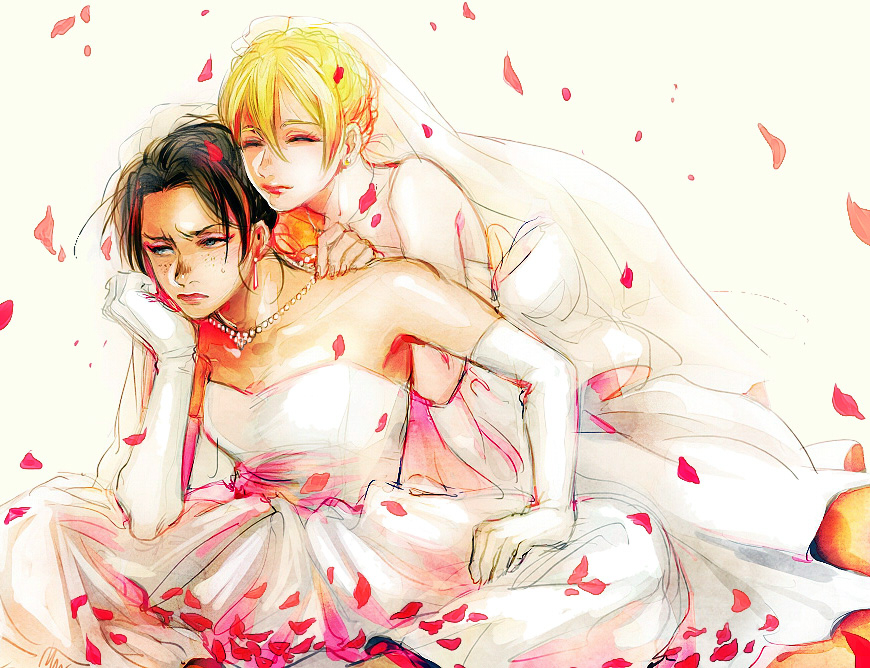 Heart-Of-The-Earth Oct 23, 2014 1:48AM
C'mon, Ymir, cheer up.

Commandershepard13 Oct 23, 2014 4:05AM
I think Ymir's problem is that she's wearing a dress, when a well tailored suit would clearly fit her much better.

Atkar Oct 23, 2014 10:24AM
They're totally getting married, they're totally reuniting and being happy for everrrr, but Ymir would be best in a suit, indeed.

kickap00 Oct 23, 2014 11:18AM
This is gonna happen in the manga. I won't accept any other outcome. Oh but Ymir needs to wear a suit instead..
Email Oct 23, 2014 2:22PM
At least Christa is comforting Ymir.

vanilla salt Oct 23, 2014 5:09PM
It's ymir?! I thought it was levi in a dress XD

trafi Oct 23, 2014 5:38PM
+1 now that you say it it totally look like him x)
last edited at Oct 23, 2014 5:40PM

flips Oct 24, 2014 1:26AM
Bet her mood will improve during the honeymoon...

ari-chan Oct 24, 2014 9:55AM
^True but I feel like that sullen face is stuck on her

YuzuYuri Oct 24, 2014 10:53AM
^pfft, wth XD

Nattie Jan 29, 2020 11:26PM
OMG I SWOre it was levi instead of ymir
lol