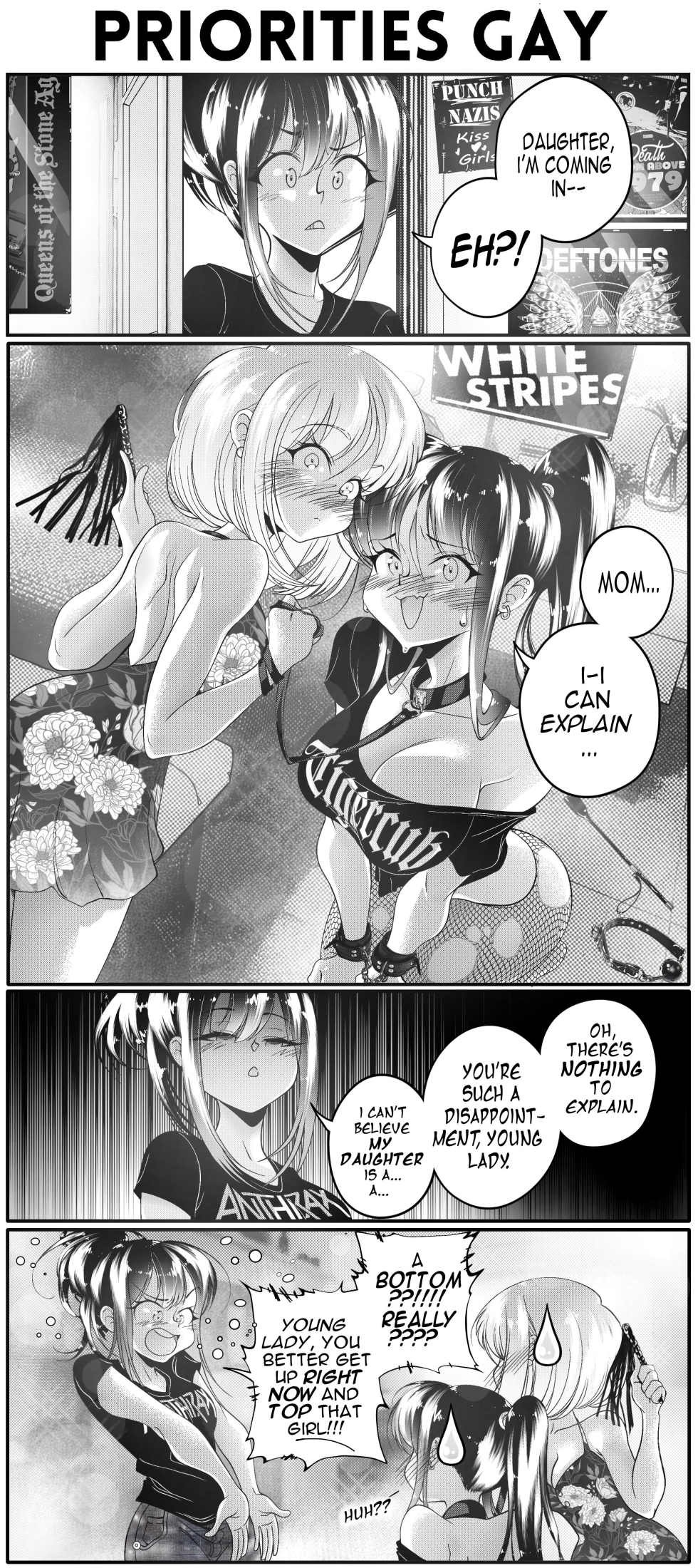 TctyaDDK Mar 17, 2023 11:32PM
"You are fine as long as you top" parents, eh
AToastyCoyote Mar 18, 2023 12:47AM
I mean, she did try once. It didn't go well.
Hauteclere Mar 18, 2023 1:01AM
Mom looks more like a twin sister.

GrimEater Mar 18, 2023 1:19AM
There's no bottoms in this family!

UppersDowners Mar 18, 2023 4:53AM
Punch Nazis & kiss girls
WORDS TO ASPIRE TOO

Lightsteam Mar 18, 2023 5:46AM
Ancient Rome style.
luinthoron Mar 18, 2023 6:14AM
Sorry, mom, not gonna happen. :D
HelloHound Mar 18, 2023 7:42AM
just like the Greeks and vikings...

HumbleBumble Mar 18, 2023 12:05PM
You tell her, ma!

IresaFan Mar 18, 2023 1:45PM
The twist is, the mom's a bottom too.

CindertailtheKistune Mar 18, 2023 2:20PM
Eeeh, she tried.
Once.
Bielle Mar 18, 2023 8:21PM
This feels like a "like mother, like daughter" situation ngl
nio_neka Mar 18, 2023 11:49PM
not in this yuri-house

17hunter00 Mar 20, 2023 1:44AM
Qotsa poster spotted, based artist spotted
Eindxy. Mar 20, 2023 1:47AM
Mom was probably a bottom in denial and she had the "mistake" to tell her daughter to be herself

Cojo Mar 20, 2023 11:27PM
@Hauteclere Moms in Yuri for ya.