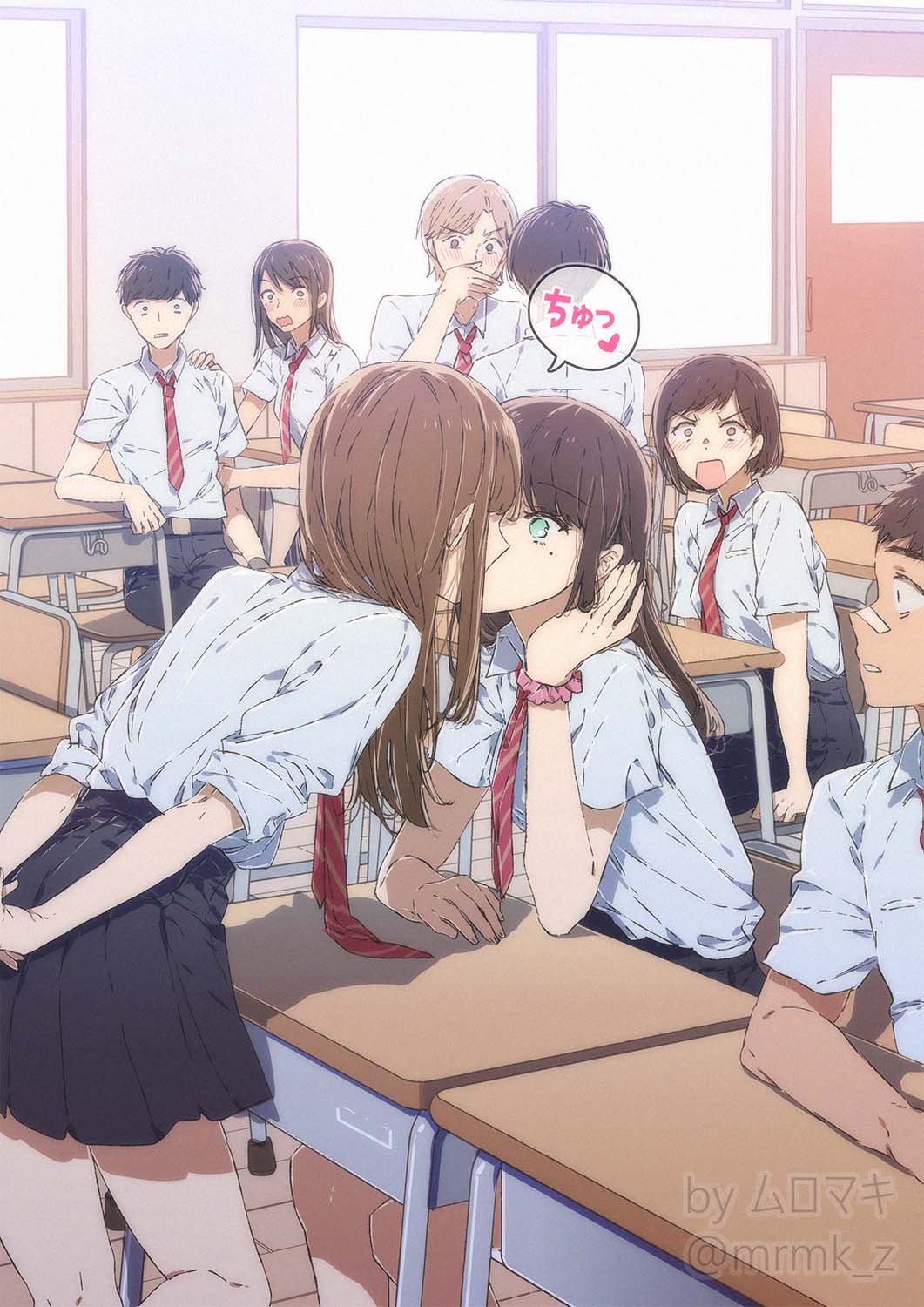 Kojiro481 Sep 9, 2022 10:32PM
When hiding it isn't an option anymore.
last edited at Sep 9, 2022 10:32PM

Mr. Jones Sep 9, 2022 10:51PM
It's opposite day Hana ni Arashi - not a secret from anyone.
Drago928 Sep 9, 2022 11:17PM
Someone's fed up with waiting

juanelric Sep 9, 2022 11:26PM
The short haired girl looks like she likes it

Dayer Sep 9, 2022 11:36PM
"You mean they weren't just roommates!?"

Rekan1 Sep 9, 2022 11:52PM
Nah mate I totally kiss my roommates in front of the entire class daily totally

Karminsinner Sep 10, 2022 1:11AM
When you " accidentally" kiss the homies infront of people
zezeeeee Sep 10, 2022 2:24AM
their faces lol
luinthoron Sep 10, 2022 5:06AM
Cute.
wlftchtr82 Sep 10, 2022 8:09AM
Tag yourselves, I am the girl in the background gripping the boy's arm as if she was clutching some pearls.

JaXmeiixX Sep 10, 2022 9:36AM
This actually looks like it would be a decent manga :O
tanorx Sep 10, 2022 11:47AM
Awww!
Takasaki Reika Sep 11, 2022 3:50AM
i'm the blond guy covering his mouth,i can't handle the cuteness
Sem04 Sep 11, 2022 4:43AM
I'll be the one gripped in the background literally seeing his headcanon becoming reality
Always love Muromaki sensei's arts

BlueStallion44 Sep 11, 2022 8:28AM
I'll be the bob haired girl looking way too closely at this kiss (background unspoken side story: the light brown haired girl is my friend and I told her not to make any moves in case the darker haired girl was straight. But clearly my friend is a "lesbian go-getter")
LaPucelleOnGirls Sep 11, 2022 10:41AM
Mhh, there is someone who isn`t pay attention
sunspawn Sep 12, 2022 9:58AM
Bandaid-on-nose just got his heart broken.
Aside from that, black hair looks like the protag of Jk x Milf.

Itxcs Sep 12, 2022 1:28PM
Im the historian in the middle.