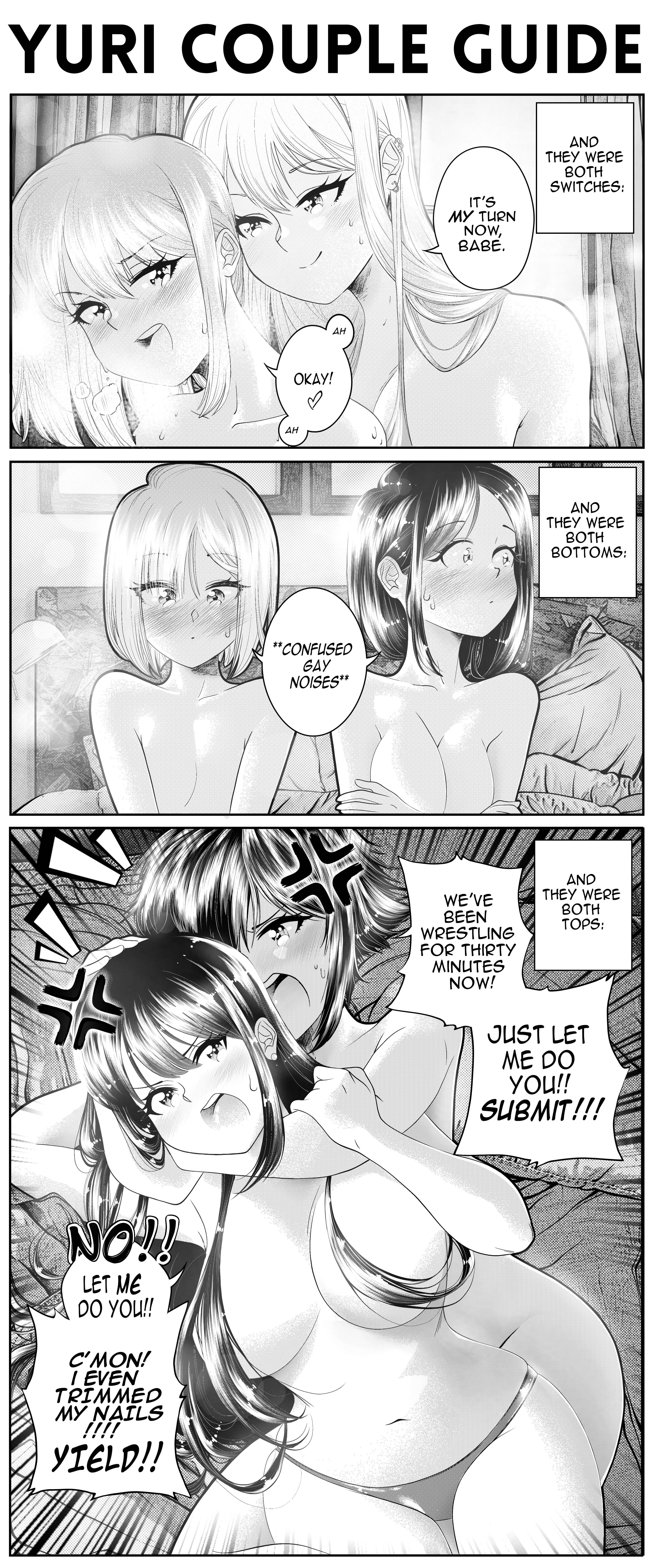 Roodypatooti Jul 1, 2022 9:51PM
Never surrender

BlueDsc Jul 1, 2022 9:56PM
This is so dumb, I love it.

Sufficient Agony Jul 1, 2022 10:14PM
TWO GO IN BUT ONLY ONE CAN COME OUT ON TOP! YOU HEARD IT HERE AT PRIMETIME WLW MADNESS!

Alice Nightrose Jul 1, 2022 10:15PM
I'm the dark haired bottom girl, to shy to even look at my lover without becoming red like a tomato

unnameddoc Jul 1, 2022 11:32PM
i'm lighting a candle for these poor bottons out there without their tops
Swag Wagon Jul 2, 2022 12:47AM
Bottom ones look like Tavi and Vinyl and it's my new headcanon.
FluffyCow Jul 2, 2022 1:22AM
Amazing haha
aliph Jul 2, 2022 11:30AM
brutal

Weeb Depression Jul 2, 2022 11:45AM
Yield! Lmfao

kittey Jul 2, 2022 12:21PM
When telling your kids that you're "wrestling in bed" is not a euphemism.

CindertailtheKistune Jul 2, 2022 2:23PM
Me when I realIze that I have friends who are every single one of these:
Ah.
luinthoron Jul 2, 2022 2:39PM
Problems.

welease.wodger Jul 2, 2022 6:47PM
Switches have it fine.

Kawasa Jul 2, 2022 8:37PM
"Both tops" is the best kink.

johnb Jul 3, 2022 2:19PM
So shy = bottom? Interesting. I'll have to make note of that in my Big Book of Yuri Behavior: A Guide to Being a Lesbian Charater in a Manga.

juanelric Jul 3, 2022 7:34PM
XD

CutegirlscryingIloveit Jul 3, 2022 9:47PM
Switches have it easy
nio_neka Jul 4, 2022 3:38PM
being the top is is a fight for supremacy XD

Soren Jul 16, 2022 1:42PM
Glorious