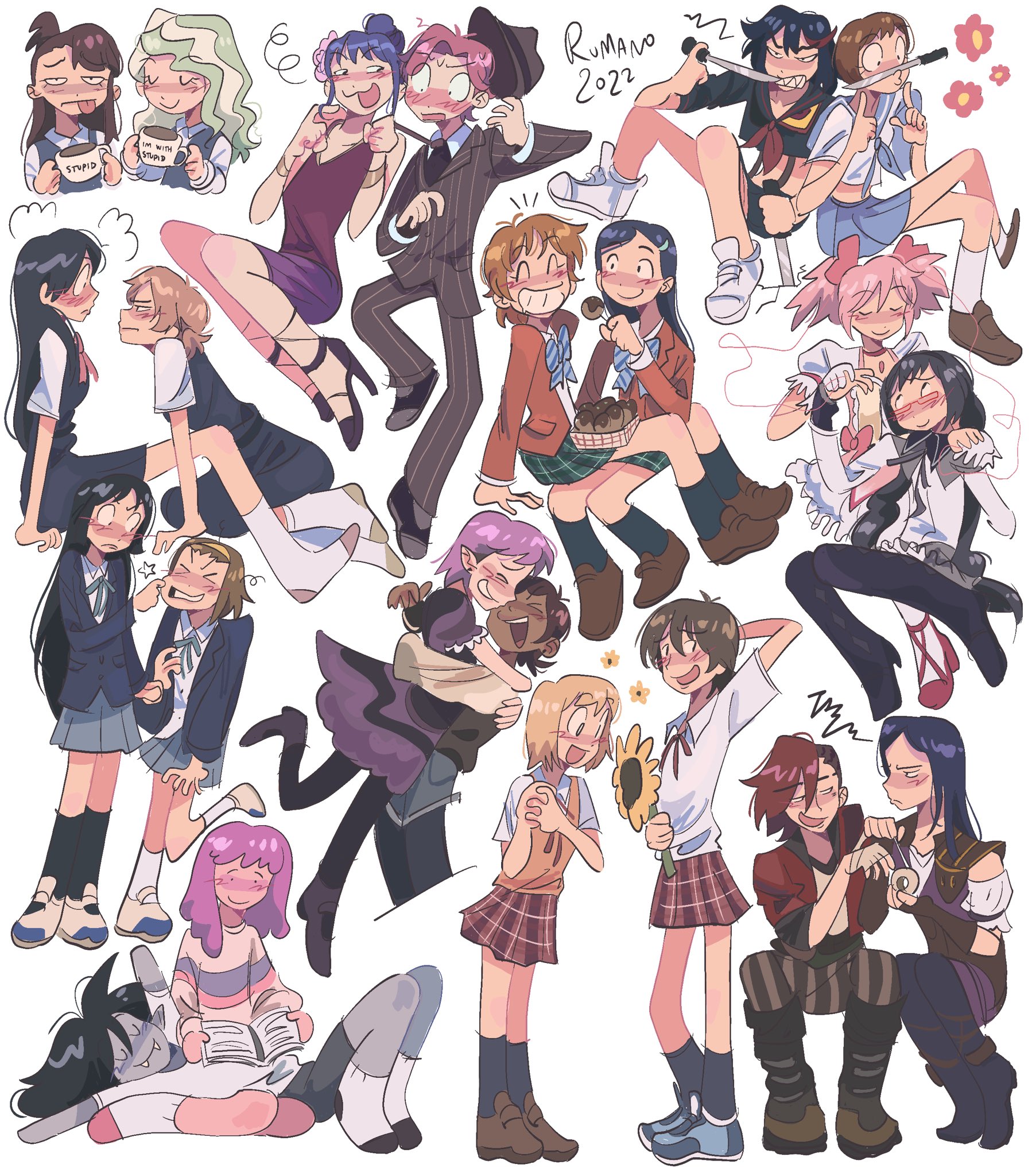 Roodypatooti Jul 1, 2022 9:33PM
Woah… that's a lotta lesbsians…

GrimEater Jul 1, 2022 9:35PM
Lots of love

Snapdragon beans Jul 2, 2022 12:27AM
All my favourite ships in one place... is this Heaven?
FluffyCow Jul 2, 2022 12:33AM
A wholesome and adorable collection
Swag Wagon Jul 2, 2022 12:45AM
Ha. GAAAAAY-yuh

Clueless1 Jul 2, 2022 1:09AM
That's a lotta tags! Imagine the challenge of identifying all the series and characters without those tags!

Mr. Jones Jul 2, 2022 1:30AM
Hey, leave some tags for the rest of us!

juanelric Jul 2, 2022 1:36AM
Wait, Bloom Into You? I thought that was A Kiss And A White Lily.

Sphingid Jul 2, 2022 2:02AM
Let's go lesbians let's go!!
parfait lover Jul 2, 2022 5:33AM
That fact that there's almost every fave ship makes me so happy :')
wsedoiugly Jul 2, 2022 1:14PM
don't really get why is Honoka x Nagisa so popular, the show is pretty explicit about Nagisa being straight.
nio_neka Jul 2, 2022 2:17PM
Akko: stupid
Diana: I'm with stupid
luinthoron Jul 2, 2022 2:38PM
Cute.

UnidentifiedFangirlingHimejoshi Jul 2, 2022 3:22PM
ALLTHE GAY!!!!!!!!!!
Diana Cavendish Jul 2, 2022 4:57PM
really like this artist´s art style

juanelric Jul 3, 2022 9:11AM
@wsedoiugly it's not like the series doesn't give fuel to NagiHono

Early on Nagisa says Honoka is the kind of girl she'd like to date if she was a boy.
Besides, Nagisa isn't the only "straight" character to be shipped more with her own gender than with the opposite gender.
last edited at Jul 3, 2022 9:11AM

livingice Jul 4, 2022 4:35PM
Ive seen this art on twitter and loved how i know every single ship except for the precure one.
jyujin98 Jul 4, 2022 8:56PM
oh my god
this is everything

daydream_dog94 Aug 5, 2022 10:54PM
seeing all these great ships drawn in this person's style on the same page is making me emotional :*)

mlysq Sep 2, 2022 6:54AM
CUTIEESSS